Music therapy program goes digital to reach quarantined patients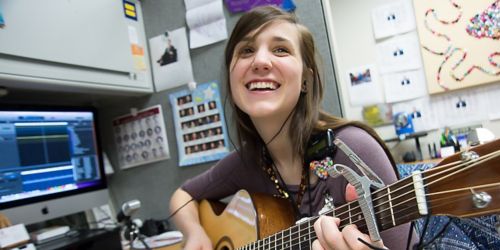 Amy Love is easy to spot in the corridors of St. Jude Children's Research Hospital, briskly pushing a utility cart packed with brightly colored musical instruments, with a guitar slung across her back. As a music therapist in the Child Life Program, Love's mission is helping children cope with the challenges of hospitalization, and she is not letting COVID-19 stop her.

With access to patient care areas severely limited, services and therapeutic programs have been temporarily affected, especially those provided to groups of patients and siblings.   
"When you're no longer on campus and you still want to reach out to the children musically," Love said, "you have to think about what technology is immediately available."
Love and her colleague Celeste Douglas quickly adapted their program to tele-conferencing and web video channels.
"We hold an early childhood group session in the music room every Thursday for 10 to 15 kids who dependably attend with parents and siblings," Love said. "We knew that was something they would really miss."
Love and Douglas started with a YouTube channel, "Music Therapy Inspired," in which they lead a new group format program from Love's own back yard, encouraging patients to sing and move along with them.
"We also explain to the parents how they can support their kids through the music," Love said, "whether it's having them sing about their bodies, counting and especially movement, which is important for our kids who are having surgery, to keep them motivated."
Music therapy is seriously fun
There is clearly more at stake with this therapy than learning to play or sing a song. Through music therapy, patients gain the confidence to express themselves, make choices and feel accomplished while learning to cope with the realities of their health.
Clinical benefits of making music include reduction of anxiety, reduction of pain perception, distraction during medical procedures, emotional expression, memory building, developmental support and family bonding.
Why St. Jude owns 15 ukuleles
Older patients, such as middle-schoolers and teens, respond to different formats of music therapy. That's why Love ordered 15 ukuleles for nurses to distribute among patients and began to post ukulele lessons on her YouTube channel, including instructions for playing "Chlorine" by Twenty One Pilots and "Shake It Off" by Taylor Swift.
"Playing a ukulele is super fun, and it's easy to learn," Love said. "You don't have to sit up in bed to play it. A lot of these kids are competent in sports or school, and then their lives suddenly change. We show them how they can still develop new skills."
One-on-one remote music therapy
COVID-19 restrictions have spurred Love to offer telehealth sessions for individual patients. Telehealth is the use of live video conferencing to support clinical health care from a distance.
"I had my first session with a patient that I've seen for a long time," Love said. "We played piano and guitar and even a kazoo."
Music therapy telehealth sessions are subject to the same standards of clinical practice established for face-to-face music therapy, including consent, assessment and documentation.
"As a result of these video conferencing and video channel initiatives," Love said, "we will be able to bridge a gap that we've always had whenever out-patients go back home."