Why I strive to be like my mentor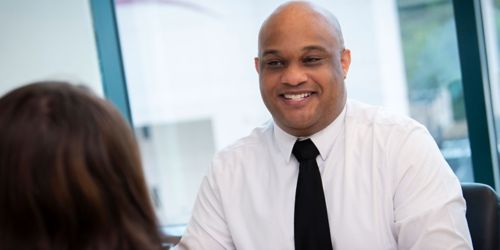 Science has fascinated me since an early age. I was always curious, inquisitive and wanted to know how and why things worked.
I participated in science programs throughout high school and then pursued a biology degree at Jackson State University in Mississippi.
In college, I took part in a program designed to encourage minority students to obtain PhDs in research. After a few years, I wanted to expand my horizons outside of the lab, but I was unsure of my next step.
Growing up in the small town of Crystal Springs, Mississippi, I didn't have many resources. Science to me was far-fetched. I would see scientists on TV and think, "No one here looks like that," so I wasn't sure I could really do it. Although I had already finished my undergraduate studies, there was still some doubt lingering. I was lucky to have a mentor step in to assure me I was on the right track.

I have always been an advocate for those who are less fortunate, so I was intrigued by the study of health disparities. Upon visiting the University of Georgia, I had an enlightening conversation with Dr. John Vena, who chaired the university's Department of Epidemiology and Biostatistics.

That conversation led to me earning a master's degree in public health and epidemiology from Georgia, combining my love of science with my fondness for working with people. Public health allowed me to be in the sciences, to complete research and to work within the community.
Dr. Vena inspired and guided me throughout my graduate school education. Today, I serve as Neuro-Oncology program coordinator at St. Jude Children's Research Hospital. I work with translational researchers, clinicians and industry representatives on innovative, St. Jude-sponsored clinical trials for central nervous system tumors.
Having a mentor to help navigate my path enriched my career. Dr. Vena and I still communicate from time to time. He is always accessible and willing to assist. He's a great reference and valued friend.
Last year, I had the opportunity to become a mentor with the Memphis Grizzlies Scholars Program, a selective high school prep program for rising eighth graders at Memphis Grizzlies Preparatory Charter School. The program seeks to create pathways to future success for young men of color through an academically rigorous, competitive program.
Each mentor is paired with one student for the academic year. We enjoy challenging and educational experiences that allow these young men to learn more about themselves and the Memphis community. We also participate in leadership-building and recreational activities such as a ropes course, which left me a little bruised, but took me out of my own element.
The program exposes the children to new avenues while teaching valuable lessons. Mentors and students get to explore the community while making dear friends in the process.
At the end of the year, students finishing the program receive recognition at a graduation ceremony. Each student announces where he will attend high school in the upcoming year. Many of the students receive scholarships to private and independent schools.
The program is a heartwarming and satisfying reminder of my origins and how opportunities and mentors fostered my career. Last year, I was thrilled and honored to be named the organization's Mentor of the Year, and I'm involved again this year.
I enjoy mentoring these young men because I think it is important for them to see successful representations of themselves and to see what is possible when you are challenged, encouraged and supported.
Just as I know my work at St. Jude makes a difference in the lives of children, I'm happy to know my work as a mentor helps shape the minds of young men who will carry forward their dreams into their own future careers.