Bringing acupuncture to kids with childhood cancer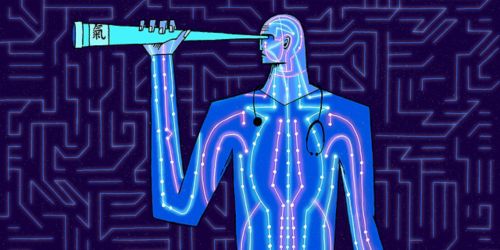 A growing number of leading U.S. pediatric cancer centers offer acupuncture and other complementary or integrative therapies to patients suffering from pain, nausea and other side effects of cancer treatment. St. Jude Children's Research Hospital will begin providing medical acupuncture services to its young cancer patients beginning in 2020, administered through the Department of Oncology.
Through its Integrative Medicine Program, The Division of Quality of Life and Palliative Care at St. Jude is rolling out a variety of new services, including therapeutic massage, yoga and non-invasive acupressure.
Acupuncture is a cornerstone of traditional Chinese medicine that involves the insertion and manipulation of hair-thin needles into different points across the body. Scientific investigations have not conclusively explained how it works, but advocates believe acupuncture stimulates the nervous system, prompting biochemical reactions that spur the body's natural healing abilities. The therapy is used to treat a broad range of conditions, but most first-time acupuncture patients are searching for relief of chronic pain. By the 1990s, acupuncture was drawing the highest rate of physician referral among complementary therapies.
"The main goal for our Integrative Medicine Program is to provide a consult service to answer patients' and families' questions about the things they read online," said Holly Spraker Perlman, MD, an assistant member of St. Jude Oncology who leads Integrative Medicine. "Later, we will offer services for indications that our patients have. We want to give the patients and families a little bit of control with these options."
Finding a career path
After completing a clinical fellowship at St. Jude in 2010, Spraker-Perlman joined the faculty at another children's hospital. She noticed a number of parents of childhood cancer patients were opposed to chemotherapy and other common medical interventions because of beliefs in alternative medicine or suspicions of modern medicine.
"I didn't understand their decisions," Spraker-Perlman said, "so I decided to take a fellowship through the Academy of Integrative Health and Medicine to learn which therapies are based on clinical evidence, for what situations, and how to offer them responsibly while being respectful to patients and families." In 2017, she returned to St. Jude and immediately began to lead the development of integrative medicine awareness and its capabilities.
Finding medical acupuncture talent
The transition from consulting families to providing patients with acupuncture therapy will require acupuncturists who can integrate their practice with the hospital's standards for quality of care.
"For our patients, it has to be someone who is not only licensed in acupuncture, but prepared to work on a Western health care team caring for oncology patients," Spraker-Perlman said, "and I prefer physicians with acupuncture training."
Two sisters in the Memphis area fit Spraker-Perlman's requirements. Helen Ly, MD, and Amy Ly, MD, are fourth-generation acupuncturists, as well as board-certified neurologists. Both studied neuroscience as undergraduates, earned their medical degrees and then completed neurobiology residencies. 
Both Lys were influenced from a young age by their father to pursue a career in medicine. Not only did they choose neurology as a medical specialty on its own merits, but also because it complements traditional Chinese medicine. "The nervous system is pervasive and there are intricate relationships between it and the rest of the body," Amy Ly said. "Similarly, Chinese medicine incorporates a holistic approach which takes into account all organ systems and how multitude of factors (e.g. dietary, environmental, emotional, etc.) may influence the body."
Since 2017, Spraker-Perlman has referred a handful of St. Jude patients to the Ly sisters' clinic. When a new patient (or their parent) has trouble reconciling acupuncture with Western medicine, the Lys point out the mutual analogs. "We're really talking about the same thing … how the body is a system of networks, communicating and working together to bring about homeostasis—dynamic balance or equilibrium," Amy Ly said. "For example, Yin and Yang does not seem so foreign of a concept when you think of it as 'hyper- and hypo-' or 'parasympathetic and sympathetic.'"
Acupuncture in cancer care

While acupuncture is not used to treat cancer, Spraker-Perlman is optimistic it can help manage some cancer symptoms and treatment side effects, especially those that lack viable treatments from Western medicine.
"There is research data indicating that acupuncture is helpful for chemo-associated nausea and vomiting," Spraker-Perlman said. "And I'm super interested in acupuncture for neuropathic pain because we see tons of kids who have it."
Chemotherapy-induced peripheral neuropathy (CIPN) is an all-too-common side effect of cancer treatment, causing debilitating weakness and a lack of sensation in the feet and hands. Symptoms usually improve within six months, but for some patients it can linger for decades. Pain medicines for neuropathy carry risks of significant side effects with no guarantee of adequate relief.
"Any intervention that can decrease these side effects could enable patients to tolerate the chemotherapy that they need," Spraker-Perlman said.
The case for experimentation
Spraker-Perlman is not out to convince anyone that acupuncture will work wonders. But she is convinced that it's often worth a trial. "I've seen people who love going to acupuncture and others that just don't believe in it," she said. "I think both of those reactions are fine, but I encourage people to try it at least once. If it works, that's amazing. If it doesn't work, then you're out one visit."
Related Posts
St. Jude advice to young adults with sickle cell disease: Stay connected
Nov 28, 2022