Portrait of Martine F. Roussel, Ph.D., unveiled at St. Jude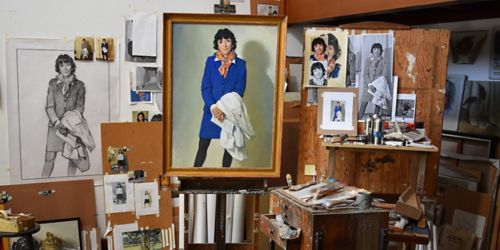 Historic occasion marks the first time a woman scientist has received the pinnacle honor of having a portrait on display in the gallery of the Danny Thomas Research Center.

A new portrait has appeared in a venerable portrait gallery at St. Jude Children's Research Hospital. This rare occasion is always historic, but in 2020 it is especially so. Martine F. Roussel, Ph.D., a molecular oncologist who has been at St. Jude since 1983, will be the first woman to receive this honor.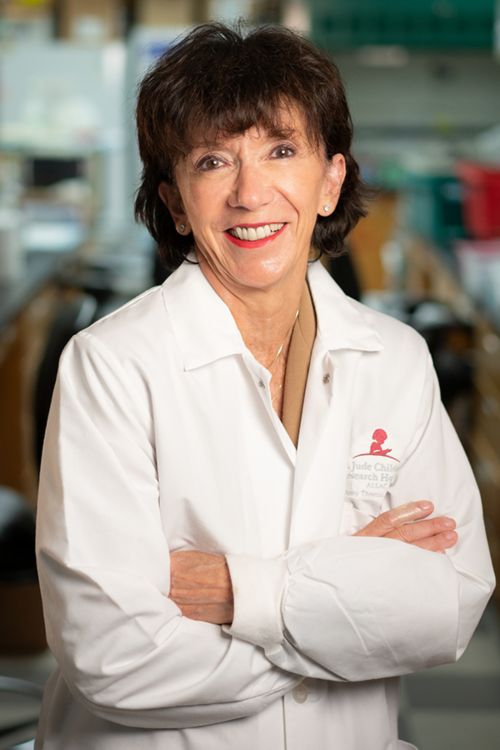 Having a portrait commissioned and installed is reserved for St. Jude researchers and leaders who have significantly contributed toward elevating the institution's science and medicine.

Half a century of scientific research

"Dr. Roussel has devoted nearly 50 years to scientific exploration, advancing how the world understands the molecular underpinnings of pediatric brain tumors," said St. Jude President and CEO James R. Downing, M.D., who nominated Roussel for the honor. "With information from her discoveries, investigators are uncovering new avenues of treatments, and importantly, developing therapies that maximize cures and minimize long-term side effects."

Roussel has made landmark findings in molecular oncology, cell cycle control and translational development of treatment strategies for pediatric medulloblastoma, the most common malignant pediatric brain tumor. She played a pioneering role in the identification of several important oncogenes. With her long-standing collaborator and husband Charles J. Sherr, M.D., Ph.D., she has made key contributions to the understanding of receptor signal transduction, cell cycle control and tumor development.

Roussel began her career as a research associate in France in 1973, working as a graduate student at the Pasteur Institute in Lille. During this era, she was introduced to visiting scientist Sherr. They later married and worked as a scientific team at the National Cancer Institute in Washington, D.C.

 Roussel, in an August 2019 essay on "Women in Cancer Research" for Nature, described those early-career years.
"In 1983, we moved to St. Jude," Roussel wrote. "My husband, who was more established, was hired to form a new cancer biology department in which I held a junior appointment. At the time, there were very few women faculty scientists in the institution. To further complicate work-related matters, we had a child in 1985, and I devoted some of my time to childcare."

Roussel charts a new path of discovery

"Chuck and I co-discovered the macrophage colony-stimulating factor-1 receptor, the three mammalian D-type cyclins, cyclin D-regulated cyclin-dependent kinase 4 (CDK4) and two CDK4 inhibitory proteins," she wrote. "Despite these successes, I was frustrated that I received little recognition, particularly from male colleagues who viewed me more as an appendage than an equal partner in our work."

Roussel knew that in order to distinguish herself, she would need to pursue an entirely new track.

"Our studies of cell cycle dynamics led me to explore the roles of the newly discovered cell cycle regulators in the central nervous system in collaboration with Tom Curran, then chair of the Department of Developmental Neurobiology at St. Jude," Roussel wrote. "This ultimately triggered my present research on medulloblastoma, a pediatric cerebellar tumor. Developing a separate direction, recruiting trainees and leading my own group, and publishing independently proved to be the path to promotion and further recognition."

Today, Roussel holds the hospital's Endowed Chair in Molecular Oncogenesis. She has been elected to the American Academy of Arts and Sciences (2011) and to the National Academy of Sciences (2019), the most prestigious appointment for scientists pursuing original research in the United States.

First a scientist

Roussel said that when future generations see her portrait, she wants them to see a scientist, first and foremost. She also hopes that her affable nature shines through.

"No. 1, I am a scientist," Roussel said. "This is what I do. I'm hoping that people see me as someone who is a good teacher and mentor. I think that is important to who I am as a scientist—to be approachable and a good collaborator."

In the portrait, Roussel stands and gazes forward with a friendly smile. She wears a blue suit over a white button-down shirt and black stockings—typical of her garb as an administrator. An orange silk scarf displays her femininity and French style. A white lab coat is folded over her arm, and she holds eyeglasses and a stack of papers.

The artist who painted Roussel's portrait is Jason Bouldin of Oxford, Mississippi, who is renowned for his oil portraits. Bouldin has painted several portraits for St. Jude, including former CEO William Evans, PharmD; virologist Robert Webster, PhD; and the late Larry Kun, MD, former clinical director.

Bouldin spent hours with Roussel, also interviewing her husband as well as members of her lab.

"The way I always start off a commissioned portrait is to try to get to know someone—to find out something about who that person is, what makes them tick," Bouldin said. "People have two likenesses: There's that tangible likeness of what somebody looks like, but there's also the intangible likeness—how we make friends and interact with people. In order for a portrait to be effective, it needs to capture something of both of these likenesses."

Bouldin determined that Roussel was "intelligent, bright, caring, sensitive and graceful," all qualities she brings to her work.

The person behind the research

Bouldin says the lab assistants helped him understand that Roussel brings her best self into the lab and maintains a nurturing environment.

"One of the reasons she's appearing with her lab coat over her arm is this very reason, to see beneath to the person who's animating the research that she's done," Bouldin said. In the portrait, Roussel faces forward in a stable yet dynamic pose, one hand placed on top of the other and relaxed. "This depicts a person who is confident in what she's doing, yet who is approachable," explains Bouldin.

Roussel has served as a mentor and supervisor for dozens of graduate students and postdoctoral fellows. In 2017, she won the St. Jude Faculty Mentor of the Year award, an honor she cherishes. The recognition reflected her emphasis on life-work balance and her support of  researchers as they follow diverse career paths.

"At St. Jude, I've been lucky to have a lot of collaborators and still have a lot of collaborators with whom I work," Roussel said. "To me, this is the best way to do science. I attribute much of my success to the support of St. Jude and my colleagues—those who worked in my lab and many others who have worked so diligently to accelerate progress for children with cancer."