Marcin Wlodarski, MD, PhD, dropped everything to help children fleeing Ukraine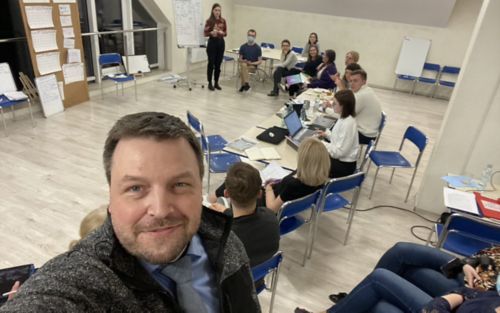 St. Jude Global started the SAFER (Supporting Action For Emergency Responses in) Ukraine effort to help children with cancer from Ukraine access continuing therapy after the Russian invasion of their country. Marcin Wlodarski, MD, PhD, St. Jude Department of Hematology, was one of the first people St. Jude Global contacted for help. Wlodarski, 45, is fluent in Polish, German and Russian, and as a pediatric hematologist/oncologist trained in Europe, he was a prime candidate to serve as a medical translator. After Wlodarski had spent just one day translating medical records, Asya Agulnik, MD, MPH, director of the Eurasia Regional Program at St. Jude Global, asked him to consider going to work for a month at a newly established triage clinic in Poland.
"Of course, I was honored," Wlodarski said. "It was not a long decision-making process because of my background. Because of the languages I speak and how I know the pediatric hematology/oncology field in Europe, I (knew I) would be able to help. I want to acknowledge the great support from my leadership in Hematology who without hesitation allowed me to leave my regular job for a while and work on this humanitarian project, and also my colleagues in the clinic and in my lab who supported me throughout the whole process."
"It was within four days that I basically arrived on the ground in Poland," Wlodarski said. "That's how it all started."
At St. Jude, Wlodarski works as a physician scientist primarily focused on genetic predispositions to bone marrow failure and leukemia. He runs the bone marrow failure program, treating patients with bone marrow failure syndromes. Patients with bone marrow failure syndromes lack the ability to properly produce blood cells because of an inherited genetic abnormality, which often increases their risk of developing blood cell related cancers, like leukemia.
While Wlodarski had valuable skills to aid the SAFER Ukraine effort, he did not have work experience in establishing and running an emergency triage center. However, once he was offered the role at what would become Unicorn Marian Wilemski Clinic (Unicorn), he was eager to become part of the SAFER Ukraine effort.
"I felt mostly excited that I could build something, help establish something to help this effort and to help move these kids quickly as possible out of Ukraine through Poland to other European countries," Wlodarski said.
A globe-trotting physician scientist
Wlodarski's unique background may have been one of the keys to the success of the SAFER Ukraine effort. Wlodarski was born in Szczecin, Poland, where he spent most of his youth. He was in his teens when he moved to Germany. There, he earned a medical degree (2008) and doctorate in immunogenetics of blood disorders (2009) from Charité Medical School, Berlin. His work won the Humboldt Award for best doctoral thesis, Humboldt Universität zu Berlin.
Not content with the offerings of a single medical system as a student, Wlodarski trained across the world. He interned at Karolinska Institute in Stockholm, where he won the Ferring-Award for best scientific project in 2002. He also interned at the National Heart, Lung and Blood Institute of the National Institutes of Health in the United States. The latter is where he was introduced to the field of bone marrow failure, which was crucial to his career.
After completing his degrees, Wlodarski moved to a residency in pediatrics and adolescent medicine at the Center for Pediatric and Adolescent Medicine in the University Children's Hospital in Freiburg, Germany. He continued there as a fellow in pediatric hematology and oncology and later as a staff physician in the bone marrow failure clinic. In 2014, Wlodarski began running a group in Freiburg focused on germline predisposition to marrow failure and leukemia. He also served as the head of molecular diagnostics in pediatric hematology and oncology. From 2015-2018, he was affiliated with the German Consortium on Translational Cancer Research and made many connections in the pediatric hematology and oncology communities across Europe.
Wlodarski joined the St. Jude faculty in 2018. He is an assistant member of the Division of Experimental Hematology focused on blood-related diseases. Given his practice and research interests, he is affiliated with the St. Jude Comprehensive Cancer Center Hematological Malignancies Program and the St. Jude Hematology Department. He focuses on bone marrow failure patients, for both research and clinical practice. His field-leading research has been featured in peer-reviewed journals. Most recently, Nature Medicine published his work on SAMD9/9L, a new marrow failure and leukemia predisposition syndrome. The piece was featured on the journal's cover and gained widespread attention.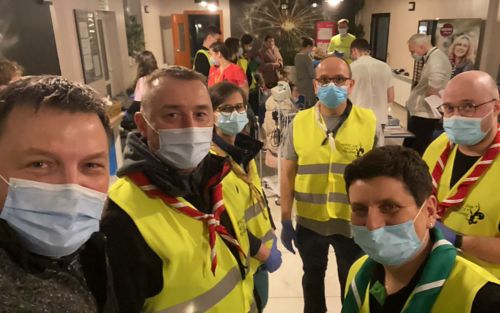 A new experience at Unicorn
Wlodarski said his first few days working with Ukrainian families provided many new experiences.
"In the beginning, we had to jump right into results-oriented work," he said. "So, we were not able to think about the processes in the beginning when there were, for example, 60 families arriving at once. We had to work very hard, around the clock sometimes. I remember there were nights where we were not able to sleep after the patients arrived because we had to triage and register them, and work on planning further transport. We had to make sure they were safe. And then we had to talk with our physician network in Europe and decide which patients (should) go to which country."
It was a humbling experience. Wlodarski found the team to be inspiring, working professionally without complaint in such a high-stress environment. While he had never done humanitarian work before, Wlodarski was prepared for the situation in other ways.
"As a physician, I had already dealt with situations where if someone died in the family, I had to deliver the bad message and then try to talk with them," Wlodarski said. "I have worked in the emergency department and the intensive care unit. There, you deal with stressful situations, and you're not allowed to lose your composure; you have to remain calm. And no matter how the patients behave, you always have to try to help them."
Structured enough to work, flexible enough for compassion
At Unicorn, Wlodarski served as a resource to resolve unanticipated problems. In one case, a patient who had undergone a transplant just a few days before leaving Ukraine had to be transferred quickly by ambulance to Germany. Upon arrival, the ambulance only had room for the patient and one parent, not the whole family.
"I was going to Berlin, actually, the next day," Wlodarski said. "I was going there anyways to go to the clinic in Berlin and pick up some supplies, so I took them with me in the car and drove them to Berlin. That was a seven-hour drive, but they were extremely grateful. And that was a great feeling, to be able to help and to assure the mother, 'Look, don't worry. You just go on the ambulance with your daughter, and we will come in two days, and your family will be reunited.'" Wlodarski took the patient's sister and father in the car, speaking with the sister in English and the father in Russian.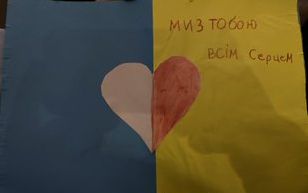 Ukrainians are part of the solution
The war in Ukraine has created many problems, but Wlodarski stressed that Ukrainians are valuable partners in the SAFER Ukraine effort. Many staff members at Unicorn are Ukrainian nationals, volunteering to help their people. Especially in the early stages, Unicorn relied on whatever skills volunteers or Ukrainian families happened to have to support the triage clinic.

Wlodarski cited the case of a broken printer.
"One of the young Ukrainian guys, about 19 years old, was playing computer games in his free time, and I asked him, 'Hey, do you know a little bit about IT and printers?' He said, 'Of course.' Then I said, 'Hey, can I give you this job and you set up the printers?' Then he set it up like an IT professional, and that was amazing. So, he was our appointed IT coordinator for a while. These people have lots of hidden talents, and if you don't ask them, you don't know," Wlodarski said.
A parting message
Wlodarski has now returned to St. Jude. He is proud of the work he did at Unicorn. He lives in Memphis, with his wife, who is an instructor faculty at the Department of Experimental Hematology. She is an expert in mesenchymal stem cells and bone marrow niche. "We speak Polish at home, but whenever I want to learn from her about basic science or ask her to give input in my research, we have to switch to English, it is just more efficient," he said.
Wlodarski is still supporting SAFER Ukraine as needed. After some time reflecting on his experience, he has a message for other physicians hesitant to join a humanitarian effort like SAFER Ukraine.
"To be honest, for many situations I was not prepared," Wlodarski said. "And I have learned a lot. I would recommend to everyone who wants to do some humanitarian work to do something outside of their scope of work. I work as a pediatric hematologist, as a physician scientist who sees patients and does wet lab research. I was not involved with these kinds of humanitarian efforts before now. And it was a really great experience. I was very honored, and on the other hand, I learned a lot. I learned so much that I cannot even describe it in words."