St. Jude scientists discover effective combination therapy for treatment of drug-resistant leukemia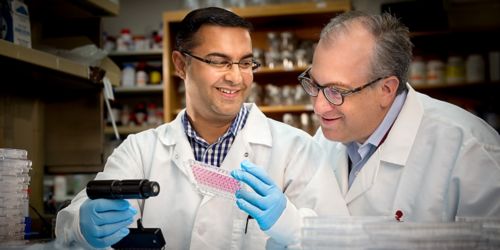 With five-year survival rates significantly lower than other forms of acute lymphoblastic leukemia (ALL), scientists at St. Jude Children's Research Hospital have been working to discover the reasons Philadelphia chromosome-positive ALL is resistant to the therapy that has been successful in other forms of the disease.
Recent discoveries have shown that an anti-malaria drug may hold the key.
Dihydroartemisinin (DHA) is a drug that has been used primarily to treat malaria patients, but St. Jude scientists Joseph Opferman, Ph.D., and Amit Budhraja, Ph.D., found that DHA can make the leukemia cells sensitive to Navitoclax – the investigational drug successfully used to target leukemic cells in other forms of ALL.
According to the study published in Clinical Cancer Research, experiments showed that while treatment with Navitoclax alone did not show positive results, the combination of Navitoclax and DHA eliminated the leukemic cells' resistance to the drug.
"Knowing what works to combat the disease is important," Opferman said. "But understanding why it works may lead to further developments and even more effective treatments."
Opferman and Budhraja's research identified how a malaria drug did what other treatments have been unable to do. Cancerous cells, as well as normal, healthy cells, depend on a protein called MCL-1 to survive.
Unfortunately, inhibiting the protein can potentially cause cell death in both cancerous and healthy cells.
Navitoclax inhibits other proteins that cancer cells require for survival, but it does nothing to suppress the MCL-1 protein. When DHA is introduced, a protein called CHOP, which regulates some pathways in ALL cells, suppressed MCL-1 and induced cell death.
With a rapidly depleted MCL-1 level, the Navitoclax was able to do its job more effectively. Opferman says the discovery will be studied in the treatment of other cancers and may lead to more treatment options for cancer patients.
Philadelphia chromosome-positive ALL accounts for approximately 5% of pediatric ALL cases and 40% of adult cases and has a five-year survival rate of 70% in children and 50% in adults.
In contrast, the overall survival rate for St. Jude ALL patients is much higher at 94%, demonstrating the potential magnitude of the recent findings.