From the lab to the dog park: a day in the life of a postdoc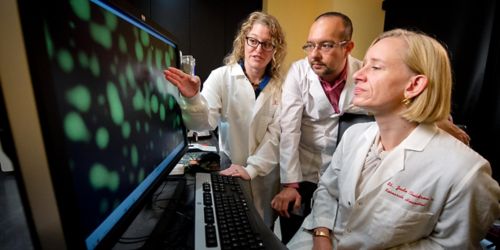 Morning

Around 6:30 a.m. our cat, Lucius, scratches at the window to wake me up so I will feed him. I call him over and force a few snuggles while I work on opening my eyes. By the time my alarm goes off, I'm finally ready to wake up. I move to the foot of our bed to coax our dog, Lucy, to wake up too. After I hug her while she rolls around on the bed, I'm ready to conquer another day.
Most mornings I turn on the coffee maker as I head to feed our pets, then grab myself some breakfast. I'll read the news, check my personal emails, and play a few games of Candy Crush to get me going. Soon my husband is awake, and we go for a walk with Lucy.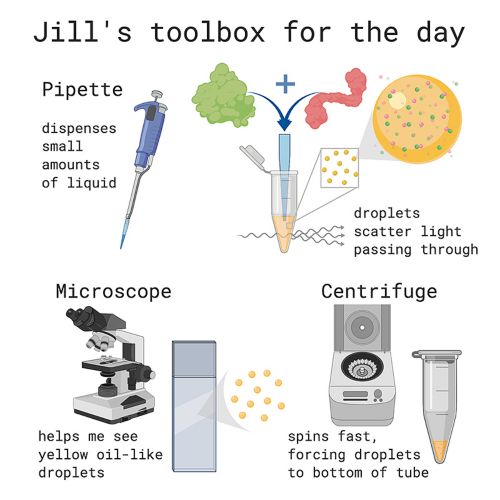 My husband is also a postdoc at St. Jude, so we carpool to work. We live on Mud Island, which is close to downtown Memphis and the St. Jude campus. Our commute is a quick 15 minutes door-to-door, and then we're in our respective labs ready to get to work.

I'm usually at my desk by 9 a.m., where the first thing I do is check my emails and go over my main priorities for the day. Setting priorities is key to making sure life in the lab flows smoothly. We are working on wrapping up a research paper, so the first thing on my list is to edit and send a figure for the paper to a collaborator. This way they can do the work they need to get done.
By mid-morning I'm ready to prep my own experiments for the day. I print a spreadsheet detailing all the components for the big experiment I have planned. I go to my lab bench and make sure I have all the supplies I need. Today's prep includes cleaning some microscope slides and labeling test tubes for the samples I'm about to prepare.

Lunchtime
I might be overthinking it, but I'm worried about the experiment. I want to make sure I get it right but I'm feeling tired. I head for an early lunch and coffee to give myself a bit of a break. Today I'm eating in my department's break room, which is well stocked with coffee. As I scarf down some leftovers, I greet people as they come in and try to perk myself up with a few more games of Candy Crush. My husband and I trade off going home on our lunch break to let Lucy outside. Today is a big experiment day for me–so it's his turn. When lunch is over, I head back into the lab.
Afternoon
Today I'm putting two molecules together, one stained red and the other green. The green molecule is a protein that is sometimes mutated in cancer cells. I want to compare how different cancer mutations in the green protein affect how it behaves with the red one. My goal is to see if I can measure whether together, they will form droplets like oil in water.
To do this I put teeny (but specific) amounts of various liquids into different test tubes. I measure them and then look at them with a microscope. Later I'll compare the numbers from my measurements with what I saw through the microscope. Next, we will compare my results with what happens in cells. Eventually these results will help us understand why some cancer cells misbehave.

By late afternoon I've processed all of my samples and finished my experiment. Tomorrow, I'll analyze my results from today's experiment and complete a report in my lab notebook.
Today feels extra productive because I was on my feet doing an experiment. But there are a lot of other types of work that go into being a researcher.
Some days are taken up by lab meetings where I share my results with my boss and others to determine the priority for my next experiments. We also have meetings where we discuss new scientific articles and see if they change how we think about our own projects.
Other days I spend preparing new materials, planning experiments, making figures or working on research papers. We have the ability to work from home when we aren't actively doing lab experiments.
Evening
Around 5:30 p.m. it's time to head home to our pets. Lucy greets us with her typical turkey gobbles--a mixture of whining, grunts and groans. We feed them and take Lucy to our apartment complex dog park. It's summertime in Memphis, meaning the evenings stay warm.
We come back to eat dinner, then feed the pets a second dinner. We take Lucy for another longer walk along the Mississippi River once it's a bit cooler outside.

Some nights I'll do some work from home, but not today. A lot got done today, so I enjoy a little TV instead. Eventually I grab Lucius and head to bed around 10 p.m.