Self-care: The No. 1 thing you can do for your child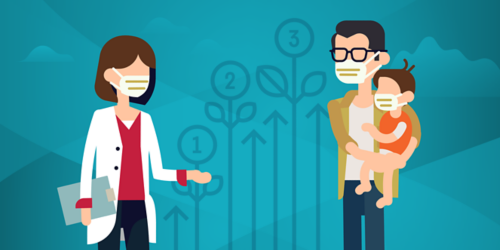 A St. Jude psychologist encourages parents to take care of themselves first.

Jennifer Harman, PhD, uses a quote to center her clinical work with patients and families: "How you are is as important as what you do." 

The words belong to clinical psychologist Jeree Pawl, PhD, a founding member of Zero to Three, a nonprofit organization devoted to the well-being of infants and toddlers.

Harman, an infant and toddler mental health expert, is a pediatric psychologist in the Department of Psychology at St. Jude Children's Research Hospital. In May 2020, Harman completed the prestigious international Zero to Three fellowship, a two-year program designed to nurture leaders in the field of early childhood. She is the first Zero to Three fellow in Tennessee.

According to Harman, roughly half of St. Jude patients are infants, toddlers or preschoolers. Harman, whose child was hospitalized last year in a neonatal intensive care unit, offers this advice to St. Jude parents and caregivers in crisis — "The No. 1 thing to do is take care of your mental health." 
The good-enough self
"Put your own oxygen mask on first," Harman said, repeating the widely known self-help metaphor from the laminated safety instructions in the seatback pockets of airplanes. 

The end of the sentence — "before helping those around you" — isn't always included on self-care mugs and T-shirts. But, in this case, the end of the sentence is just as important as the beginning.

Harman asserts that taking care of yourself first isn't selfish; it's necessary. A parent of a sick child who makes self-care a priority isn't the same as a ship captain who jumps into a lifeboat with passengers still below deck. The parent is still at the helm, ready for whatever comes next. 

For St. Jude patients, what's next could be chemo, radiation, surgery. Parents need "oxygen" for the difficult challenge of taking care of a child with a life-threatening disease. 

What about the everyday challenges of parenting? 

A temper tantrum is the quintessential example. Tantrums often go along with noncompliant behavior, which means not doing what you're supposed to do when you're supposed to do it. 

If you've ever tried to put a screaming toddler into a car safety seat—only to fail when the child assumes an unbreakable reverse plank position—then you already know about tantrums and noncompliance. 

As Harman points out, when you're stressed, it's difficult to be your best self. She advises parents to aim for the good-enough self. 
If you need help
So, how do you replenish your emotional stock to cope with a tantrum or crisis? Harman recommends 15- to 20-minute breaks. Go to a cafe for a cup of hot coffee, maybe a pastry, tune out the hum of the crowd and relish the solitude.

You could also try deep breathing or exercise (take a walk and bring your child in a stroller if you need to). A web search for "self-care" yields plenty of other ideas.

In her clinical work, Harman helps children who are not sleeping or eating well. She also evaluates and treats children for developmental delays, separation anxiety and medication refusal, among other issues. Some problems — social withdrawal, parent-child attachment difficulties, for example — foreshadow challenges down the road because they can negatively affect development. 

In therapy, Harman teaches parents more advanced strategies for self-care, such as mindfulness, positive self-talk and diaphragmatic breathing. 

She frequently uses evidence-based psychotherapies that leverage the parent-child relationship to make a change. This approach is based on the idea that the quality of this relationship is a key part of a child's psychological well-being.

Harman recalled one patient who displayed severe anxiety at the prospect of separation from his mother. The toddler, clinging to his mother, regularly refused examination. The mother's frustration with this behavior fueled the child's anxiety, resulting in a negative interaction cycle that interfered with treatment.

Harman taught the mother effective responses to her child's protests and behavioral strategies meant to increase her child's emotional-regulation skills.  
A better psychologist 
"I always knew I wanted to work with little kids," Harman said. Early childhood experiences, she noted, set the foundation for development across the lifespan. She also knew that she wanted to be a mother one day.

Harman, who chose adoption, received happy news in 2018: She had been matched with a child. Harman's daughter was born in January 2019.

Fragile and difficult to soothe, Harman's infant daughter had neonatal abstinence syndrome, the result of prenatal exposure to opioids. For a month, the baby suffered through withdrawal. 

Harman knew she needed to take care of her own mental health; she believed her daughter's well-being depended on it. So, she practiced the same strategies she teaches St. Jude parents.

During this time, Harman experienced firsthand how even a well-meaning doctor or nurse can be perceived as uncaring, judgmental or not fully present.

She absorbed a valuable lesson. 

"It doesn't matter how busy you are or how many other patients you have," Harman said, "you need to take a breath and center yourself."

"I think motherhood made me a better psychologist," she added.
Day's end 
After a long day, Harman is ready to spend time with her daughter, who is flourishing thanks in part to early intervention services. Provided in all states, these services — speech therapy, physical therapy among other resources — are meant for children younger than 3 with developmental delays and disabilities. 

Harman engages in developmental play with her daughter, but that's an incomplete description. 

Mother and daughter play together with toys and read board books. Harman delivers hugs and kisses (she always emphasizes the importance of touch with St. Jude parents). 

And now and then, beneath the lights, little feet atop bigger feet, Harman smiles, and her daughter laughs, and they dance.