Jasmine Turner: Overcoming obstacles, rising to meet challenges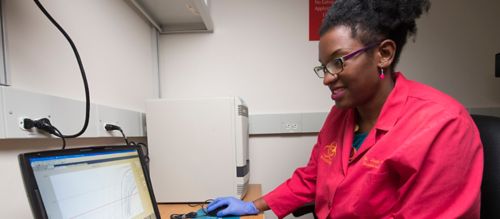 When Jasmine Turner peered through her first toy microscope at age 5, her mind filled with a world of possibilities. She has been fascinated with the microscopic universe ever since.
Her inquisitive mind, fueled by a mother who worked in public health and a father who worked in engineering, led her to a career in research.
"I've always loved science," says Turner, a native Memphian who earned a biology degree at Rhodes College and a master's degree in microbiology and molecular cell sciences from the University of Memphis. "My mom saw my interest in science and fostered it. She'd buy me a chemistry set or take me outside to look up at a lunar eclipse."
Turner, a research lab specialist in Infectious Diseases, focuses on virus surveillance in a time when pandemic has become a common word in the world's lexicon. While she manages research projects, writes manuscripts and has a publication first-authorship to her credit, her non-linear career path mirrors the journeys encountered by many Black or female scientists.
The face of a scientist
Turner's interest in science was rivaled only by her passion for sports as a child. She played three varsity sports—basketball, softball and volleyball—in high school and played college volleyball.
"I wanted to be a scientist or the first woman in the NBA," Turner says. "I think the competitive nature of sports really helped me in science, especially being a member of underrepresented groups—being both Black and a woman. I had some challenges that some people don't have to face."
Turner lacked an academic mentor throughout her high school and college career. There weren't many women or teachers of color in her scientific courses—no one with similar experiences to help guide her or focus her talents. She turned to her mother for encouragement and inspiration.
For Turner, resilience and tenacity were required to enter a field with very few Black women.
"My race is intrinsically linked with my gender. When I navigate the world, the most obvious thing about me is that I am Black and that I am a woman," Turner says. "I have had experiences where I could tell my gender played a bigger factor, and I have had experiences where I could tell race was a factor. But oftentimes, both were against me."
A foot in the door
While Turner was in graduate school, she worked nights as a dangerous goods agent at the FedEx hub in Memphis. She spent four years applying for laboratory positions before landing an interview with St. Jude. It was her work with hazardous materials that got her foot in the door.
She was hired as a biohazard technician, handling biohazard waste. A year later, in 2010, she got the opportunity she desired—an entry-level tech position in the Infectious Diseases laboratory of renowned virologist Robert Webster, PhD.
The laboratory is now overseen by Richard Webby, PhD, who serves as director of the World Health Organization Collaborating Centre for Studies on the Ecology of Influenza in Animals and Birds.
Turner and her colleagues conduct experiments on influenza detection. She collaborates with scientists across the world and is the lead liaison for a project in Bangladesh. She has trained scientists on methods of influenza detection from samples collected in markets to help identify influenza strains.
"Our purpose is pandemic preparedness. We are trying to anticipate what the next pandemic will be by monitoring which strains exist," Turner says.
In her first year working in the lab, Turner assisted a postdoc who was conducting experiments that involved a certain method of extracting ribonucleic acid (RNA) from sample cells. Working with the postdoc, she learned the specialized extraction.
A decade later as St. Jude began emergency operations due to COVID-19, the institution looked to Webby's lab for assistance in testing employees. Turner was the only researcher with experience doing the procedure at that time, and she quickly rose to the challenge. Turner quickly refreshed her memory on the method. She and her colleagues turned their attention to COVID-19 testing assays until a standardized method was adopted.
A non-linear path
Science is a demanding career, especially for working mothers who try to meet the needs of their job as well as their kids. Turner, a mom of three young boys, stressed the pressures that many women in science face: choosing between a family or a career. Many women researchers make sacrifices or face choices that most men don't encounter—which leads to a non-linear path for women in their career arcs.
"We can wear many hats. We can be a scientist and a mom, but women often have to make a choice between career and family," Turner says.
As her children grow, Turner plans to expose her sons to her scientific interests, but she's content with them choosing their own course in life. Her advice for them and for anyone surrounded in an environment where others may look different is heartfelt.
"My advice is to never give up. You will face obstacles," Turner says. "You may not see people who look like you. But if you are present, you can do it. You belong."