Vaccination is prevention: The HPV vaccine is effective against cancer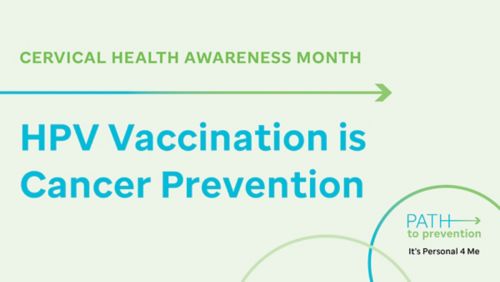 Each January, the United States observes Cervical Health Awareness Month. Cervical Health Awareness Month is important to the St. Jude HPV Cancer Prevention Program, as human papillomavirus (HPV) is the primary cause of cervical cancer.
Through HPV vaccination, cervical cancer screening and timely treatment of cervical pre-cancers, we have the power and potential to eliminate cervical cancer. HPV is a common virus linked to six types of cancer. These cancers can affect anyone. Eight out of 10 people will get HPV during their lifetime. Every year, about 36,000 Americans are found to have cancer caused by HPV.
HPV vaccination is cancer prevention. Ninety percent of HPV cancers can be prevented by HPV vaccination.
The HPV vaccine has a strong safety record that is backed by more than 16 years of sound science. The vaccine has been proven to reduce the number of HPV infections and prevent HPV cancers. Receiving the HPV vaccination at a younger age, before exposure to the virus, provides the greatest protection against HPV infection and associated risks. The vaccine is effective and provides lasting protection against HPV that is not shown to decrease over time.
The US Centers for Disease Control and Prevention (CDC) recommends giving the HPV vaccine to children at age 11–12 and as early as age 9 and through age 26. Adults ages 27–45 should talk to their doctors about possible benefits of HPV vaccination. Vaccination in adults offers less protection against HPV because most have likely been exposed to at least one strain of the virus.
In addition to HPV vaccination, cervical cancer can be prevented by detecting pre-cancerous changes to the cervix through a Pap smear, high-risk HPV testing or a combination of the two. The full cervical screening recommendation from the U.S. Preventive Services Task Force (USPSTF) is every three years with cervical cytology (Pap test) alone in women ages 21–29. For women ages 30–65, the USPSTF recommends screening every three years with cervical cytology (Pap test) alone, every five years with high-risk human papillomavirus (hrHPV) testing alone, or every five years with both a Pap test and high-risk HPV testing.
An important step in preventing cervical cancers and other HPV cancers is to get vaccinated and ensure your loved ones are vaccinated against HPV based on CDC recommendations. Regardless of HPV vaccination status, women should also follow cervical cancer screening recommendations.
This Cervical Health Awareness Month, you are invited to join the HPV Cancer Prevention Program and others in learning more about the importance of HPV vaccination as cancer prevention. To learn more, visit the St. Jude HPV Cancer Prevention Program webpage or email PREVENTHPV@stjude.org.