In the hospital of the future, hospitalists will have 'day jobs'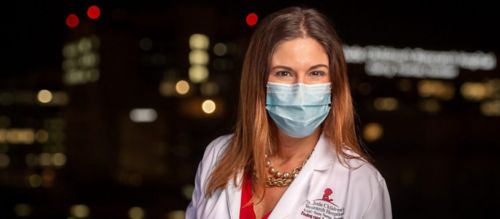 When Liza-Marie Johnson, MD, became an oncology fellow in 2009, she and other clinical fellows at St. Jude Children's Research Hospital took turns supervising residents in inpatient units during evening and overnight shifts. By the end of her fellowship in 2012, sweeping changes in hospital regulations reduced clinical residents' traditionally long work hours and increased requirements for who was qualified to supervise them.
A decade later, Johnson is still supervising overnight care, but she and her team of 23 oncologists and nurse practitioners in the St. Jude Hospitalist Medicine Program like to think of their work as "day jobs."
Hospitalists' mission has evolved from filling gaps to running clinics and services
Hospitalists provide patients with around-the-clock care when their primary St. Jude oncologists are not available. The hospitalists make medical decisions and provide both emergency and regular care.
"I have been overjoyed to watch the ongoing development and increased scope of the Hospitalist Program since my arrival in 2017," said Ellis Neufeld, MD, PhD, St. Jude clinical director and EVP. "The physicians and advanced practice providers who serve as hospitalists have not only improved off-hours coverage, which was part of their initial mission, but have also improved care in many other ways."
During 2018, the Hospitalist Program began managing the St. Jude chemotherapy service and in January 2020 launched the newest line of clinical service: an acute care clinic for established patients. Johnson's team coordinates with infectious disease clinicians and other specialists to manage the inpatient care of patients with COVID-19. Her team also supervises oncology consultations at Le Bonheur Children's Hospital.
It is not uncommon for a patient's first day at St. Jude to begin in the evening, which is why hospitalists can be the first physicians and nurse practitioners that families meet at St. Jude.
"When a newly diagnosed patient arrives after hours, the family has had a very long day," Johnson said. "They could have found out that morning, in an emergency room, that their child might have leukemia. Despite the hour, there will be medical staff ready to answer their questions about leukemia."
The brief and expansive history of hospitalist medicine in America
In 1996 two young professors at UC-San Francisco School of Medicine managed to coin the word "hospitalist" and predict its boom in one sentence:
"We anticipate the rapid growth of a new breed of physicians we call 'hospitalists'—specialists in inpatient medicine—who will be responsible for managing the care of hospitalized patients in the same way that primary care physicians are responsible for managing the care of outpatients," Robert Wachter, MD, and Lee Goldman, MD, wrote in the New England Journal of Medicine.
By 2016, the new field encompassed more than 50,000 clinicians.
The future of St. Jude hospitalists, by night and by day
"Hospitalist medicine is an established specialty, but it's not very old," Johnson said. "In the hospital of the future, hospitalists will have day jobs. They take care of patients during the day, they teach, and they are actively involved in quality improvement.
"I may be biased, but I think we have the most advanced oncology hospitalist medicine program in the country because our program is already moving into that future," she said.
At St. Jude, the hospitalist field has gradually transformed from a staffing solution into a faculty-track program.
"Dr. Johnson has worked diligently to assure a stable, long-term hospitalist service," Neufeld said, "with improved academic opportunities and a continued focus on first-rate pediatric hematology/oncology expert care."
For physicians who enjoy patient care more than basic science research and grant writing, hospitalist medicine now provides an academic career path, Johnson said. "Promotion criteria look different from other faculty criteria," she said. "You demonstrate that you're becoming a master clinician. You get credit for teaching residents, fellows, nurse practitioner students, pharmacy students and others who rotate through our clinical floors.
"While my team was born out of necessity to cover gaps in coverage when the rules for trainees changed," Johnson said, "there has been a shift in perception about the field. Now physicians who realize that they really like to take care of patients can choose to pursue hospitalist positions when they graduate."