New drug for a rare disorder: How will Gamifant's approval affect HLH treatment?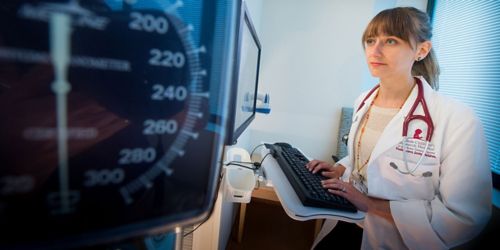 A disease most people have never heard of was recently highlighted when federal regulators approved the drug Gamifant to treat hemophagocytic lymphohistiocytosis, also known as HLH. A rare disorder of the immune system, HLH is diagnosed in fewer than 1 of every 50,000 to 100,000 children each year. Without treatment, the condition can lead to severe organ damage and death.
Gamifant controls HLH in most patients
There are two major types of HLH: primary (familial) and secondary (acquired). Primary HLH is an inherited condition usually identified in infancy. The origins of secondary HLH, which most often occurs in adolescents and adults, are less certain. However, we know that autoimmune disorders, certain infections and cancers can trigger the development of HLH.
Gamifant (also known as emapalumab-lzsg) was approved as a treatment for children and adults with primary HLH that does not get better after standard therapy (refractive) or disease that comes back after standard treatment (relapsed). Regulators greenlighted the drug after a multicenter study of 34 patients with primary HLH—27 of whom had relapsed or refractory disease—concluded Gamifant controlled disease in about two-thirds of the patients. It also allowed patients time to undergo a potentially curative bone marrow transplant. In addition to Gamifant, some of the responding patients received other HLH-directed medications, such as steroids or etoposide, a chemotherapy medication.
How Gamifant works to treat HLH: Putting the brakes on the cytokine engine
Cytokines are proteins that help regulate the way our bodies respond to infection. In patients with HLH, too many cytokines build up in the body, causing severe inflammation and threatening vital organs. Gamifant works by neutralizing interferon gamma, one of the many cytokines that fuel inflammation in patients with HLH.
While Gamifant's approval is a welcome addition to the physician's toolbox and broadens our knowledge about HLH, it likely will not change the way we treat most patients for now. Since the Gamifant study showed comparable effectiveness to standard care, I expect the majority of patients with HLH will continue to receive conventional therapies as long as they are able to tolerate the regimens well and have positive outcomes. In the meantime, we must continue to search for new, effective treatments for those patients who fail to respond to current therapies or to Gamifant itself.
NACHO: A collaborative quest
Histiocytosis research is often hampered by the disease's rarity, which can make it difficult to find a sufficient number of patients to participate in clinical trials that may lead to new therapies. In response to this dilemma, St. Jude and other institutions formed the North American Consortium for Histiocytosis (NACHO).  St. Jude is the coordinating center for the collaboration, which has spurred a deeper understanding of the biology of HLH and redoubled efforts to identify new drugs to improve the outcomes for children who wrestle with this condition.
At St. Jude, for example, we are currently developing a new clinical trial for HLH patients to evaluate whether another drug known as ruxolitinib will be effective in children with newly diagnosed or relapsed/refractory HLH. Since ruxolitinib dampens the immune-activating effects of interferon gamma, as well as multiple other pro-inflammatory cytokines, we anticipate it will prove  helpful to curtail disease activity in children with HLH. This has proven to be the case in preclinical models in France and in laboratory research by St. Jude oncologist Kim Nichols, MD. The drug has already been approved by the FDA for other diseases, and we look forward to opening our clinical trial by the end of 2019 for the frontline and salvage treatment of HLH.