Newly elected National Academy of Sciences member talks about his research and how it continues despite a global pandemic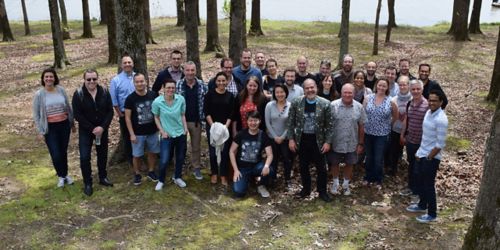 Recently, Douglas R. Green, PhD, chair of the St. Jude Children's Research Hospital Department of Immunology and Peter C. Doherty Endowed Chair of Immunology, was elected to the 2020 class of the National Academy of Sciences. The renowned society of scholars is charged with providing independent, objective advice to the nation on matters related to science and technology. Scientists are elected by their peers to membership in the NAS for outstanding contributions to original research.

Green's research focuses on apoptosis and other processes of cell death and cell survival in cancer and the immune system. Currently one of the world's most highly-cited researchers, Green has published more than 600 papers, chapters, commentaries and books. The second edition of his book Cell Death: Apoptosis and Other Means to an End, was published in 2018.
Read more about Green's research and how it continues despite the COVID-19 pandemic.
Q: Dr. Green, please tell us about your research.
A: Sure, happy to. There are three areas we focus on in the lab. All three affect the immune response and our efforts to develop cancer immunotherapies:
Cell death and cell signaling

Every second, a million cells in our body die. My lab is dedicated to understanding the molecular processes involved. There are several ways cells kill themselves, and we study all of them.
When a cell dies, it sends out signals to other cells. Those signals include asking other cells to come and eat the dying cell, which is then digested and cleared. The cell that does the eating generates signals that can influence the surrounding cells. This has important implications in cancer and immune responses.
About 13 years ago, we were studying how cells are cleared from the body and made a discovery that has been a research focus ever since.  In fact, a Memphis artist saw photographs of our cells eating other cells and produced this artwork.
Macrophages — more than big eaters

The cells that do the eating are called macrophages or "big eaters." When they eat dying cells, those cells are taken up into vesicles. The vesicles are surrounded by molecules usually involved in cell survival, not in cell death. The molecules are involved in a process called autophagy. Cells use autophagy to stay alive when they're deprived of things they eat. We were stunned to see macrophages taking those molecules and putting them into vesicles with dying cells.
The pathway we discovered is important in a wide range of  important physiological and pathological processes. We call it LC-3-associated phagocytosis, or LAP. Its close cousin is called LC-3-associated endocytosis, or LANDO.
LAP and LANDO have important roles in the immune response against cancer; in the control of neurodegeneration in Alzheimer's disease; in systemic lupus erythematosus; and almost certainly other biological processes. We're studying those to get a better understanding of those diseases and how this molecular pathway we've discovered plays roles in those processes.
T-cells and immune response

For the last 10 years, we've been very interested in the immune response, especially immune cells called T-cells, and what fuels the T-cell response to infections or cancer.
Along the way, we made another very surprising discovery. The very first time an activated T-cell divides, the two daughters are often very different from each other. We've been studying their differences, and how those events drive the trajectory of cells that were essentially twins, but now take different paths.
One of the daughters will go on and make a fast, furious immune response to an infection or cancer. The other one is a little quieter. Weeks later, that cell can respond if the infection reappears. Understanding that process at a deep level will give us insights into how to launch immune responses against cancers.
Q: How is your team coping through COVID-19? Is your laboratory closed or open?
A: It's a little of both. During this terrible pandemic, we have to be away from the campus as much as possible. The No. 1 priority is to prevent any infections in the patients. All of the people in our lab respect and understand that.
For the most part, we work at home and we analyze data. But, every day, one or two people from the lab will go in to continue their research and make more progress. It's going at about a tenth of what we normally can do, but we're still making progress. We have lab meetings and journal clubs virtually. We talk to each other all the time, only virtually. That virtual reality isn't real reality, but it's the best we have right now. So, we're looking forward to the day when we can meet each other and really interact and continue to make discoveries that push these important fields forward.