St. Jude graduate students unveil their secrets for getting into a great PhD program and having a strong first year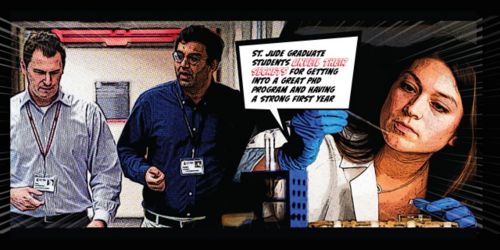 Biomedical science PhD students spend years preparing for graduate school, and once they start, their work becomes even more challenging. There are no short-cuts to success, but a good plan and good advice will improve the odds.
Two of our students in the St. Jude Children's Research Hospital Graduate School of Biomedical Sciences have written about this journey. Mackenzie Bloom and Rahul Kumar share their own advice for gaining admission to a top graduate school as well as strategies for first-year success in a biomedical program.
Advice like theirs certainly would have helped me during my own graduate school experience.
Mackenzie studied biology at the University of Kansas, where she was an undergraduate research assistant in chemical engineering and molecular biology labs. Her well-grounded advice here, for future biomedical graduate students, is to find similar undergraduate research opportunities:
"Completing a multi-semester research project is the first thing you need to do. This is first on my list because it is the main thing most programs look for in incoming students. But if you're already halfway through your junior year, don't panic. You can rack up legitimate research experience in less time, but the earlier you start, the more competitive you will be after graduation." Read more.
The common thread in all of Mackenzie's practical advice is the importance of learning current methods in biomedical investigation, including how laboratory projects cycle through conception, design, execution and documentation.
Rahul outlines practices and skills for making a strong start in graduate school, including sharpening analytical skills, intellectual curiosity and rethinking the scientific implications of failure.
We don't know how Rahul found the time to write this perceptive article. He is pursuing both a PhD at St. Jude and an MD at the University of Tennessee Health Science Center. His advice to first-year biomedical graduate students is to further sharpen the intellectual tools they already possess:
"Successful scientific research hinges on critical thinking and problem solving….Rather than focusing on minutiae and memorizing facts, learn the subtle intricacies of thought that scientists spend decades refining. Ideally, you should leave every lecture with some deeper understanding that could never be found in a textbook.
"Curiosity unchained drives progress…. As you begin to push your own frontier, pay attention to what piques the curiosity of your professors: Try to understand the larger scope of their efforts rather than zeroing in on a noteworthy project." Read more.


Rahul also stresses the importance of reaching out for help: "Despite the importance of independent learning and academic self-reliance, remember that you are not in this alone."
More about the Graduate School
The St. Jude Graduate School of Biomedical Sciences is training the next generation of academic researchers in a unique interdisciplinary environment to become scientific leaders and discover tomorrow's cures. The Graduate School confers PhD degrees with myriad research opportunities in pediatric cancer, cell and molecular biology, developmental biology, structural biology, neurosciences, chemical biology, immunology, infectious diseases, RNA biology, genomics and epigenomics, computational biology, genome engineering, and other emerging fields. Graduate students at St. Jude experience the full spectrum of scientific exploration—from cutting-edge basic research, to a robust translational pipeline and world-class clinical trials run on campus.