A global resource to learn more about pediatric cancer patients and COVID-19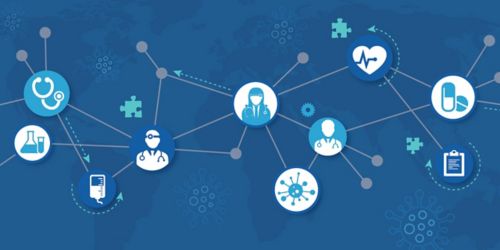 Little is known about how the COVID-19 pandemic is impacting children and adolescents being treated for cancer. As childhood cancers are already considered rare, trying to learn more about how the virus affects our patients is difficult. Any one hospital likely will have only a handful of cases to report, thus limiting what we can study as a global community.
At St. Jude Global, we are working rapidly to quickly discover how patients around the world are faring and provide the information necessary to support others. In collaboration with the International Society of Paediatric Oncology (SIOP), we are proactively engaging the entire global pediatric hematology/oncology community to learn and share more about the impact of the virus on our collective patient population around the world.
The St. Jude Global COVID Resource Center
As part of our global efforts, multiple teams at St. Jude Global have banded together, while working from home, to develop The Global COVID-19 Observatory and Resource Center for Childhood Cancer.
Designed for all health care providers with an interest in childhood cancer, the new resource center contains three integrated platforms. These include educational material, guidelines, seminars and other shared resources for clinicians and patients and their families. We also developed a global registry to rapidly aggregate the experiences of COVID-19 cases among children with cancer with the goal of rapidly sharing the results. Finally, to provide a curated space for discussion and collaboration, we built a forum with message boards and video content to encourage greater interactivity at this time of social isolation.

Content on the resource center website is rapidly growing. Pediatric hematologists/oncologists and infectious diseases experts from St. Jude, China, Singapore, Spain, Italy and other locales around the world have already conducted educational sessions with peers and colleagues from every continent. These prior meetings have been translated to Spanish, French and Arabic and are available for public use. As we continue to have discussions with global health care leaders, we anticipate the resources and information shared through the resource center will grow to include guidelines and updated technical summaries of the best evidence available.
The Global COVID-19 Registry
But going back to our mission, discussion alone will not answer all our questions. In the end, everyone is searching for treatment answers as the pandemic unfolds in front of us. Thus, it is imperative we not wait but try to also work in near real-time to get a better understanding of how this virus is affecting our pediatric cancer patients. The COVID-19 registry is a first step to collect information quickly and provide more certainty around our many current assumptions.
The St. Jude Global-SIOP COVID-19 and Childhood Cancer Registry is a call to action for all of us to share our experiences to help children. The registry de-identifies patient information and is entirely voluntary. Using these data collected, we hope to learn more about what types of cancer patients are getting sick; where they are getting sick; and what their outcomes are.

We also want to start to understand whether there are unique lessons from the pediatric cancer population that could benefit all of society. For example, because many pediatric cancer patients are highly susceptible to infections due to their chemotherapy even in normal times, we have always taught them to isolate and stay away from crowds. Whether these tactics are effective even for the most vulnerable of populations like children with cancer remains unknown. The registry is the first step to learn if there is something in pediatric cancer treatment that drives pediatric cancer patients' COVID-19 infection rates, or are those rates more an exemplar of social distancing and mitigation?
Safe space for global collaboration
The Global COVID-19 Observatory and Resource Center for Childhood Cancer is launching not as a final product, but as a first draft of an evolving story. From the St. Jude Global perspective, we are committed to continually updating the website and maintaining a safe space for global collaboration. Yet, this is not a St. Jude or SIOP initiative alone. Ultimately, the success of this initiative depends on the collective voluntary participation of the global community.
Working together, we can and will meet our shared dream that no child should die in the dawn of life.

Read more about the launch of the Global COVID-19 Observatory and Resource Center for Childhood Cancer.