Commercial Appeal's inaugural Healthcare Newsmaker Breakfast spotlights St. Jude Global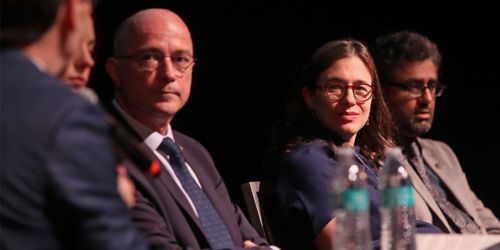 On the eve of the one-year anniversary of St. Jude Global, some of the program's architects took the stage in Memphis May 23 to detail achievements, to outline lessons learned and to issue an invitation.
The occasion was the Commercial Appeal's inaugural Healthcare Newsmaker Breakfast at the Orpheum Theatre's Halloran Centre. The event drew more than 100 people, including hospital and health care leaders from 19 countries who were in Memphis for the second annual St. Jude Global leadership academy.
St. Jude Global is the hospital's landmark effort to change the landscape for children with cancer wherever they live, explained James R. Downing, MD, St. Jude Children's Research Hospital president and chief executive officer.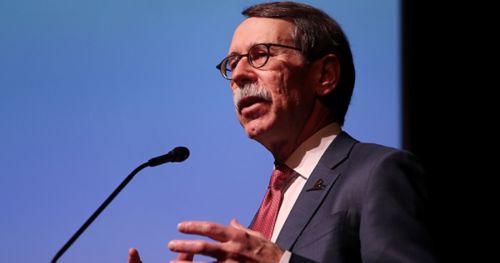 Joining Downing for the panel discussion about St. Jude Global were Carlos Rodriguez-Galindo, MD, St. Jude Global director; Paola Friedrich, MD, director of the program's Mexico region; and Nickhill Bhakta, MD, director of the Sub-Saharan Africa region. The panel also included Catherine Corbin of IDEO, who explained how the international design and consulting firm joined the effort to design a global alliance that maintains the human connection even as it grows to meet the challenge.
Pediatric cancer survival rates are better than 80% in the U.S. and the developed world, but survival rates worldwide are less than 10%. 
St. Jude has committed $100 million through St. Jude Global to change that. The program's goals include increasing the institution's reach to directly influence the care of 30 percent of the global pediatric cancer population by 2021.

Rodriguez-Galindo explained that the effort is built on the pillars of education to train a global clinical workforce, as well as capacity-building to develop and strengthen health systems and research.
The approach is gaining momentum. In Mexico, a St. Jude collaboration with three institutions has grown to include 25. In Myanmar, the effort brought together health care professionals, government officials and education leaders plus the World Health Organization to develop an approach that might be the "seed" for pediatric cancer treatment throughout the region. A checklist developed through St. Jude Global to reduce admission to the intensive care unit is also being used at St. Jude.
Downing urged Memphis business leaders to consider how their expertise and connections might further the collaboration and address problems. "It will take more than medicine to change the landscape of childhood cancer," he said.