Why does the risk of pediatric acute lymphoblastic leukemia relapse vary by race?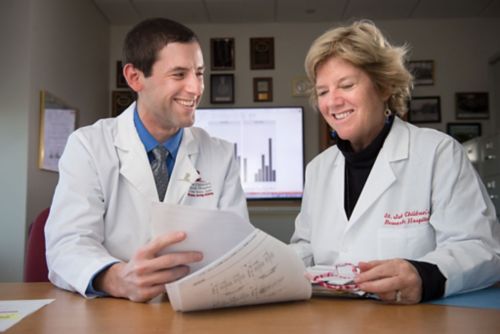 Steadily improving cure rates have made acute lymphoblastic leukemia (ALL) one of the great pediatric cancer success stories of the past 50 years. At St. Jude, the long-term survival rate for ALL patients is now 94 percent. But some young ALL patients remain at an increased risk of relapse and the reasons are not always understood. Past studies have suggested ancestry may play a role.
Research led by St. Jude investigators identified four inherited gene variants that were more common in African-American and Hispanic patients than their Caucasian counterparts. These variants were all associated with an increased risk of leukemia relapse. Findings were published in the journal Leukemia.
"These genetic variants were markers of a high risk of relapse for patients regardless of ancestry, but they are carried by more patients of African and Hispanic ancestry," said first author Seth Karol, MD, Comprehensive Cancer Center. "It was surprising that so few variants explained such a large portion of the ancestry-related risk of relapse in this study."
The largest genetic study yet of high-risk B-cell ALL
The findings stem from the largest genetic study yet of high-risk B-cell ALL. Depending on the definition, high-risk B-ALL accounts for 30 to 50 percent of pediatric ALL cases. This analysis included 2,250 children and young adults enrolled in the Children's Oncology Group (COG) trial AALL0232. The African-American and Hispanic patients in the study were more than twice as likely as Caucasian patients to relapse.
Researchers used a library of more than 11 million gene variations to screen patients' germline DNA for genetic variants associated with relapse risk, particularly risk linked to ancestry or chemotherapy regime. More than 1,000 genetic variants were identified.
Researchers checked a second group of 719 patients with high-risk B-ALL and found 32 of the original 1,017 variants were also associated with relapse.
The 32 included the four genetic variants that were associated with race and relapse. The variants were carried by 73 percent of African-American patients and 57 percent of Hispanic patients, but only 20 percent of Caucasians. Although not previously been linked to relapse risk in ALL, patients with at least one of these relapse-associated variants were more than twice as likely to have their cancer return.
Karol and his colleagues are already working to understand the mechanisms of how genetic variants may influence relapse risk.
Mary Relling, PharmD, Pharmaceutical Sciences chair, is the senior and corresponding author.