Pediatric immunotherapy: How two immunologists are paving the way for improved treatments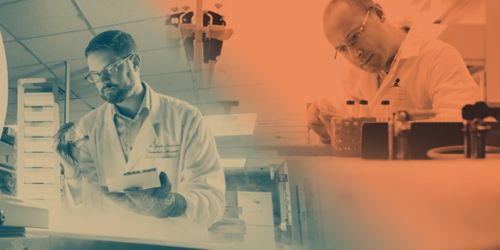 Using immunotherapy to treat cancer is no simple process. The immune system may not recognize a pathogen at all, may not produce a strong enough response to kill tumor cells or may generate such a strong response that immune cells become exhausted.
Fortunately, at St. Jude, two researchers are dedicated to better understanding the immune system and developing effective immunotherapies. Paul Thomas, PhD, and Ben Youngblood, PhD, both in St. Jude Immunology, use their combined research knowledge and experience to investigate the pediatric immune system in novel ways.
"We both have a focused interest in T cells," Youngblood says. "Our research questions are different, but they're very complementary."
Thomas is focused on structure: how T cells in the immune system recognize specific pathogens and cancers. Youngblood is focused on function: how T cells generate immune responses and what factors control the efficacy of the response.
"We're looking at different stages of the immune response," Thomas says. "Together, these two elements are essential to any kind of T cell response."
Not only are the two scientists on the same page with their research, but they also get along outside of the lab. When they're not working late hours or traveling to conferences, they can be found getting dinner together and hanging out.
"When we first met, we really connected in conversation," Youngblood says. "We just enjoy each other's company."
"It's a lot of fun being friends with someone with whom you work so closely," Youngblood agrees. "It definitely makes the job easier."
Though their friendship helps, their jobs are far from easy. Manipulating the immune system to target cancer is naturally very complicated, yet it is even more challenging in the pediatric setting.
Many immunologists think immunotherapy cannot be used for pediatric cancer due to the differences between pediatric and adult tumors. Tumors with many mutations are easier to target with immunotherapy, but pediatric tumors tend to be low-mutation. And, in general, less is known about the pediatric immune system compared to the adult immune system.
"The main issue is that the pediatric immune system has been under-explored," Youngblood says.
"There's just less interest among scientists in researching the pediatric immune system," Thomas adds. "That's one of the things that makes St. Jude unique: our focus on pediatrics exclusively."
As they investigate an area into which few other scientists have gone, Thomas and Youngblood are great sources of support for one another. They're able to act as sounding boards for each other's ideas and provide criticism when necessary.
"You can be a lot more honest with your friends," Youngblood says. "We're not afraid to call each other out."
Thomas and Youngblood have already attained impressive research success by working together, but none of it would be possible without the resources available at the hospital. St. Jude is not the only institution working on translational immunology research, but it is the only place concentrating entirely on pediatrics.
"Very few places have the large patient population and the number of clinical trials we have here," Thomas says. "It allows us to look at pediatric tumors in new ways and really get at the fundamental principles of immunity."
As the researchers discover more and more, their drive to understand the immune system only gets stronger. Going forward, both will continue to look at the unique features of the pediatric immune system and explore how pediatric tumors differ from adult tumors. And, as they continue their work, they know they'll be there for one another, whether that's to motivate each other on tough days or to celebrate exciting breakthroughs.