Five years later: gene therapy for 'bubble boy' disease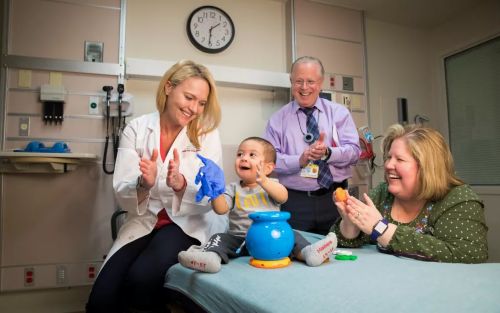 More than five years after the first infant received an experimental lentiviral gene therapy for treatment of X-linked severe combined immunodeficiency (X-SCID), he and 22 subsequent patients are thriving. That is according to Ewelina Mamcarz, MD, of the Department of Bone Marrow and Cell Therapy. On May 19 she presented interim results of the ongoing clinical trial at the annual meeting of the American Society of Gene and Cell Therapy in Washington, D.C.
X-SCID, also known as bubble boy disease, is a rare, life-threatening disorder caused by a mutation in a single gene that prevents proper immune function. Without functional immune cells, these infants are extremely susceptible to any type of infection. Untreated, the children usually die early in life.
"All patients in this study have functional immune cells post gene therapy," said Stephen Gottschalk, MD, Department of Bone Marrow and Cell Therapy chair.
Children enrolled in the study have contracted and recovered from regular pediatric infections, which prior to gene therapy would have posed a significant risk. "Several patients who had COVID-19, RSV or flu infections fought them off without any issues," Mamcarz said. Respiratory syncytial virus (RSV) is normally a mild childhood infection but can cause severe respiratory symptoms in immunocompromised infants.
Updating the initial New England Journal of Medicine report
The May 19 report updates a 2019 New England Journal of Medicine publication documenting the initial success of the gene therapy developed and produced at St. Jude.

"At a median follow up of more than two and a half years, the therapy appears to be safe and effective," Mamcarz said. "The patients develop functional immune systems with no evidence of abnormal cell division."
The multi-center clinical trial now includes 23 patients and represents the largest cohort of infants with X-SCID who have received gene therapy. Over half of the infants in this report look immunologically like their peers. The remaining patients appear to be following the pattern of immune recovery of their predecessors but are still early in their journey post treatment. While the median follow-up is two and a half years, six patients are at or near the milestone of being five years post therapy.
So far, the treatment appears safe and yields a stable, functioning immune system. There has been no sign of leukemogenesis, a concern with previous attempts at gene therapy.
"These results look and continue to be encouraging," Gottschalk said. "However, there are very few studies where patients have gotten gene therapy so early in life, so we need to continue to observe these children."
St. Jude researchers have partnered with Mustang Bio, a biotech company that is seeking U.S. Food and Drug Administration approval for the St. Jude gene therapy approach for X-SCID.