Experiencing burnout? Find what brings you joy at work
Doctors, nurses and other health care providers at St. Jude Children's Research Hospital use cutting-edge therapies to treat patients. These professionals do whatever they can to help.
But caring for patients can take a toll on your well-being. You're present for the ups and the downs of treatment, and you might feel exhausted, frustrated, even apathetic.
You can feel burned out.
Avoid burnout by finding joy
One strategy—finding joy in your work—could help you ward off the negative thoughts and feelings that fuel burnout.
In 2017, the Institute for Healthcare Improvement published "Framework for Improving Joy in Work," which underscored the importance of joy in the workplace. When you understand what brings you joy, you can nurture those resources and increase your own levels of compassion and dedication.
Joy not only adds to your own well-being, but its positive effects extend to patients and families.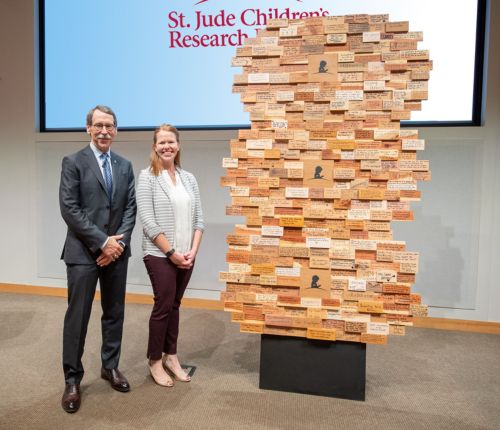 Joy comes from connecting with parts of your work

Recently, the St. Jude Staff Resilience Center embarked on a project designed to increase the power of joy in the hospital. They asked hospital employees to answer one question: "What brings you joy in your work?"
Employees wrote their answers on special wood blocks instead of paper. As the manager of the Resilience Center program, I was delighted by the tremendous response.

Experiences that evoked blissful emotions included collaborating with colleagues, hearing the laughter of children, and connecting with the St. Jude mission of finding cures and saving children. On more than one occasion, employees expressed how even their participation in the project brought them joy.
Assembling the wood blocks to create three large pieces of artwork for display in the hospital required the combined efforts of Resilience Center committee members; Biomedical Communication's Joshua Stokes and Benjamin Gale; and Facilities Operations and Maintenance's Nathan Forester, a master woodworker.
Unfortunately, creating artwork to inspire joy doesn't mean that every day will be a joyful day. Until we cure all children with life-threatening diseases, health care providers will join patients and families on their stressful journeys through treatment.
But finding joy along the way makes the journey a bit less arduous. Also, joy might broaden your perspective, reminding you of your crucial connection to patients and the reasons you decided to become a health care provider in the first place.
It's worth remembering that health care is noble and meaningful work. You provide hope and healing. Joy—this essential resource—will only extend your powers.
But you can't give what you don't have.
So, find what brings you joy, then share your joyful spirit whenever you get a chance—helping patients, families, colleagues and yourself.