St. Jude helps employees connect through virtual holiday cooking event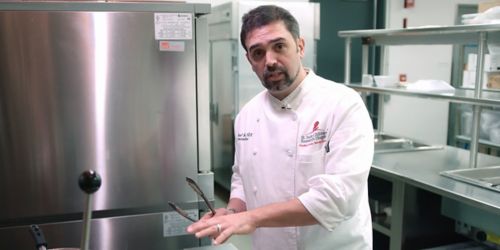 St. Jude Children's Research Hospital executive chef Michael Vetro has made thousands of elaborate dishes throughout his career. But when it came time to create a dish for a virtual cooking event for employees, he wanted to try something he had not made often.

Just in time for Thanksgiving, Vetro whipped together a seasonal dish of rustic sweet potato gnocchi with apples and kale. The hospital's Biomedical Communications video team filmed his step-by-step instructions in a hospital kitchen.

The 28-minute video was broadcast this month to employees on the hospital's internal messaging platform. Vetro provided the recipe prior to the event. Employees were charged with creating the seasonal gnocchi dish in their home kitchens along with a tasty batch of chocolate crinkle cookies. His team also created a pop-up station in the hospital's cafeteria and served samples in another campus dining area.

"I have made gnocchi maybe a half dozen times in my career," says Vetro, interim director of St. Jude Food Services. He joined St. Jude in 2013. "I wanted to step out and do something that I had not done a lot because it helped me get into the mindset of how to explain it to the viewers."

With limiting household gatherings recommended for Thanksgiving this year, many people will be dusting off their holiday cookware to bake their turkeys and traditional sides. The event was a warm-up to the holiday season and a festive way to connect employees.

The St. Jude Human Resources Communications team coordinated the event as part of its Dinearounds community-building program. The popular program connects employees at Memphis-area restaurants for a night out of dining and socializing with colleagues.

Because the program halted during the pandemic and many employees are working remotely, the team wanted to try a virtual version. Team member Letita Aaron approached Vetro with the idea. He jumped at the opportunity.

"We wanted the recipes to be accessible. The ingredients should be easy to get and preparing the dishes shouldn't take a ton of culinary skill so employees of any cooking level could participate," Aaron says. "I wanted our employees with kids to be able to invite them in the kitchen to help too."

Lynette Larkins, director of St. Jude Information Security, served as the "chef de cuisine" in her household. Her husband served as sous chef, and her 13-year-old daughter helped with the cookies.

"The virtual Dinearound was fun and challenging," Larkins says. "We thoroughly enjoyed the family time in the kitchen and nearly dirtied every dish."

There were opportunities for kids—or as Vetro called them "kitchen helpers"—to join such as rolling the cookie batter into balls and tossing them into separate bowls of granulated and powdered sugar.

Vetro joined the live Yammer chat as employees asked questions, posted photos and shared comments.

"This was a fun opportunity to make something new and attend without needing to adjust my schedule," says Elizabeth Whittington, director of digital media in St. Jude Communications. "I was able to ask questions in real time and post photos for Chef Vetro to critique. I didn't have high expectations for myself, but the dish ended up looking beautiful and tasted amazing."

"I loved how Chef Vetro offered ways for even the littlest chefs to participate," says Kristen Ryan, a clinical research associate in St. Jude Critical Care. "The video was clear and easy to see his techniques. I would love to do this again."

This was the first time Vetro had participated in a cooking instructional video. Filming took about two hours and included some fancy camera work—a shot from inside the oven and a slow-motion view of the cookies shaking in the sugar bowls.

"One of the challenges was to show each stage of the food preparation process, but still keep the video down to 30 minutes," says St. Jude Videographer and Editor Benjamin Gale.  "Michael was a joy to work with, and I can confirm that the meal was delicious."

Vetro looks forward to future potential projects to help employees who are missing the hospital's cafeteria and the social aspect of seeing familiar faces. "St. Jude is a community, and this virtual event is a great way for us to stay connected," Vetro says. "People share a love of food, and it's an easy way to bring people together."