Expanding the St. Jude strategic plan to $12.9 billion helps further advance its mission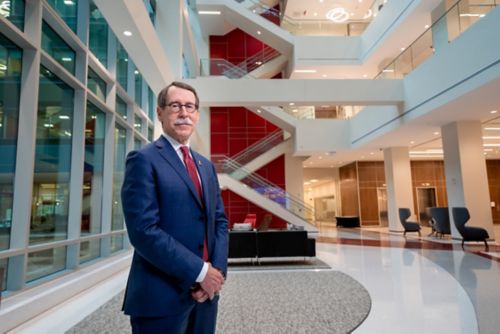 Following a promising first year of its 2022–27 strategic plan, I'm proud to announce St. Jude is increasing its investment in programs to advance the study and treatment of pediatric cancer and other catastrophic diseases. 
The growth includes an additional $1.4 billion to the institution's six-year operating and capital budget, bringing the total to $12.9 billion. The expansion also encompasses raising the number of new jobs from 1,400 to 2,300; and increasing funds for construction, renovation and capital needs from $1.9 billion to $2.3 billion. The new funding will further support scientific operations, clinical care, global medicine and infrastructure.
Even before we officially launched the strategic plan in July 2021, we began to explore the possibility of further expanding the budget and staffing numbers. We developed a proposal for opportunities where a larger investment would help accelerate research and treatment for devastating childhood diseases. With these increases, we are better positioned to build on the plan and capitalize on emerging technologies and discoveries.
These changes will not alter the plan's strategic initiatives or goals. Rather, they provide additional support to ensure employees have ample resources and more bandwidth to tackle childhood cancer and other life-threatening diseases.
Investment in fundamental science
The 2022–27 plan charted initiatives across the fields of structural biology, advanced microscopy and data sciences. These efforts are directed at better defining normal biology and disease states. With this data, researchers will gain valuable insights into why diseases arise, spread or resist treatment. More than $250 million in capital, personal and operating expenses will be allocated to the areas, doubling the current funding. 
Another $15 million has been dedicated to a large-scale program to explore the structure of protein kinases, bringing total six-year funding for the initiative to $50 million. From this effort, researchers hope to better understand the role of protein kinases, key regulators of cell function, in pediatric cancers and drug resistance. From this work, scientists will glean insights that could be useful in developing new precision therapies.  
Investment in global childhood cancer care
In low- and middle-income countries, pediatric cancer survival rates languish below 20%. In the U.S., however, 80% of U.S. children with the same diseases are cured. New investment will help researchers improve these statistics. Funding for the global initiatives will grow to $100 million annually by 2024, further supporting St. Jude–established networks around the world. By training doctors, nurses, researchers and other professionals; developing and strengthening health care systems; and advancing knowledge to sustain improvements in how medicine is practiced internationally, the institution seeks to raise survival rates to 60% for six of the most common childhood cancers during the next decade. This growth is in addition to the $200 million St. Jude committed last year to create a global platform to ensure that children in low- and middle-income countries have access to quality cancer medications. 
Investment in collaboration
The strategic plan outlines funds for collaborative projects among St. Jude and scientists across the U.S. and around the world. To date, St. Jude has supported five teams of researchers who are addressing questions in fundamental biology, pediatric cancer, sickle cell disease and survivorship. Funding will increase to $160 million during the next five years—an increase of nearly $60 million from the original budget. By 2027, St. Jude leadership plans to support a total of 11 collaborations focused on tackling unanswered needs in science and medicine. 
Investment in the St. Jude campus 
As St. Jude increases staff and accepts more children for treatment, creating a top workplace and a welcoming home-away-from-home for patients and their families is a major priority. The increased funds will be used to enhance construction projects, including the Domino's Village, a 140-unit housing facility for patients and their families, and the Family Commons, a treatment-free zone for patients and their families within the hospital. 
The expansion will also be used for construction of two, 15-story towers dedicated to patient care and clinical research. These projects will break ground in August.  
The heart of the plan—accelerating progress globally—remains the same. In the past year, we have reached significant milestones across five focus areas—fundamental science, pediatric cancer care, childhood catastrophic diseases, global outreach, and workplace and culture. Based on what we've accomplished in the past year alone, the future is bright with possibilities.