BRAVE program helps ICU patients get moving sooner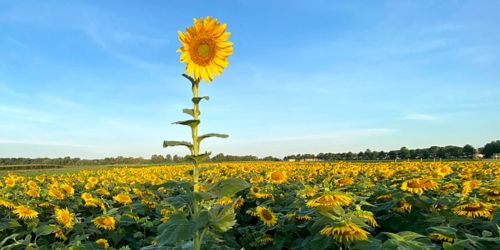 In the early stages of a sunflower's growth, its stem bends and follows the sun's path through the daytime sky. Once it reaches full growth, the sunflower no longer tracks the sun. It's now strong enough to face eastward on its own.

Not too long ago, a collection of sunflowers dotted the glass windows and doorway of a patient's room inside the eight-bed intensive care unit (ICU) at St. Jude Children's Research Hospital. How they appeared was a lesson in bonding, teamwork and determination—the direct result of a program called BRAVE (Beginning Restorative Activities Very Early).
A field of sunflowers
Amanda Brown, MSN, APN, FNP-C, has been a nurse practitioner in the St. Jude ICU for more than a decade. It's not your typical ICU, Brown often tells visitors or new hires. Patients are already battling cancer or other deadly diseases. Now, unfortunately, they are sick enough to be admitted to the ICU. Many of them stay for months.

These prolonged stays allow clinicians to get to know patients and families on a deeper level. Meanwhile, the medical team's goal is to reduce the amount of time children are in the ICU.

When an occupational therapist informed Brown that one of her patients was frustrated with both activities and spending so much time in isolation, Brown thought back to the conversations she had with the young girl over several months. Brown recalled the patient loved painting and sunflowers.

Working with occupational and physical therapy, Child Life and the bedside nurse, Brown organized a painting session. Golden flowers soon filled the room.

"She enjoyed the activity time with us. Painting was just fun to her, not a work in fine motor skills," Brown said. "With the distraction of something she enjoyed, she was able to stand longer than she ever had. Our therapists were there to assist, but she felt like she was painting with friends."
A BRAVE initiative
These moments of success are making a difference for patients as part of BRAVE, which recently celebrated its one-year anniversary at St. Jude.

BRAVE helps mobilize patients as soon as possible to decrease stay times in the ICU, bouts of delirium and the time patients spend on ventilators. After a few days of immobility, patients begin to lose muscle mass, which can lead to additional concerns when they awaken.

Early mobility is more than standing and walking. It can include passive range of motion such as clinicians turning sedated patients in bed or moving the arms and legs of sedated patients. The goal is for patients to return to normal activities more quickly.

The BRAVE initiative is the first project spearheaded by the Critical Care Microsystem, an improvement program managed jointly between the ICU and the Office of Quality and Patient Care. The BRAVE team includes clinical team members such as child life specialists, nurses, nurse practitioners, occupational therapists, pharmacists, physical therapists, physicians, psychiatrists, psychologists, respiratory therapists and speech therapists. Each patient in the ICU is assessed and given a BRAVE score based on their health status and current capability. That score can change daily.

"It's amazing to see how far we've come in the first year," said Brown, who serves as co-leader of the BRAVE team. "At the bedside, our teams use their expertise to think outside of the box and help these patients do their best, get out of the unit and return to their lives."
Collaboration in action
Cynthia Barger, MSN, RN, has cared for hundreds of critically ill patients in more than 13 years at St. Jude. In the ICU, she is the nursing lead for the BRAVE team. She's noticed a remarkable change in patients.

"Since BRAVE began, our patients are moving, and they're not as weak as they used to be for a long period of time," Barger said.

Nurses play a vital role since they are always at the bedside. They monitor patients on ventilators and medications to reach a steady balance. They assist the therapy teams with movement.

"BRAVE is a game-changer," Barger said. "Because we are getting them moving sooner, patients are recovering better. That plays a huge role in their psychological health as well."
A BRAVE future
At morning rounds, each aspect of the BRAVE team is represented. Each patient is assessed, and the team uses a care plan known as the ABCDEFG Bundle to build their approach.

Each letter represents an important part of the initiative:

A for assessing, preventing and managing pain
B for breathing trials and spontaneous awaking
C for choice of sedation
D for delirium (assessing, preventing and managing)
E for early mobility and exercise
F for family engagement and empowerment
G for good sleep
Family involvement is important. Parents are encouraged to help the care team when possible. It can be something as simple as moving their child's arms or legs to help with range of motion.

"When we meet with families initially, we tell them how our teams are going to work together to get their child moving," Barger said. "We teach the parents that they play a role. Sometimes they might be a little scared at first, but I can really see a big change with parental involvement."

 The program continues to evolve. One discovery from the past year has been the value of creating day and night routines. Even when patients are sedated, the clinical team turns on lights and opens windows during the day while doing the opposite in nighttime hours. The patients' sleep and mental health has improved.

"We are fortunate that at St. Jude we are able to have this many colleagues work together to care for a patient," Brown said. "By using the unique skills that they each possess, we provide a better level of care. I think our patients appreciate it because we are always trying to figure out what makes them tick and who they are beyond their diagnosis."