Don't sweat it: Public speaking is about preparation, not natural talent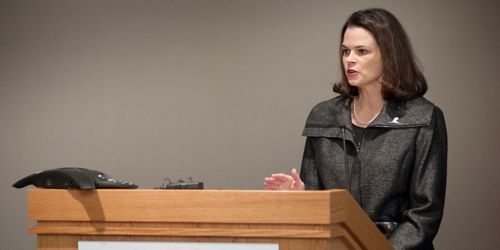 Although some people may seem like natural orators, public speaking is not a skill that you possess at birth. Speaking in front of an audience—whether the event is work-related or not—is a skill you can develop with lots of practice and proper preparation.
I frequently speak to groups of all sizes as well as work with colleagues who are presenting abstracts or posters at external conferences or events on our campus.
During a recent development session, I shared ideas on how to overcome the anxiety of public speaking and focus on a successful podium presentation through preparation, practice and anticipation.
Overcoming anxiety
The fear of public speaking is known as glossophobia and manifests via anxiety, avoidance and physical symptoms such as increased heart rate, sweaty palms and shaky knees.
Before you step onto the podium, try some relaxation techniques to focus on having a positive experience. These can include:
Music
Guided positive imagery
Deep breathing
Stretching
Vocal cord warm-up.
One of the best methods to calm your nerves during your talk is to find a friend in the audience and make eye contact. If you don't know anyone out there in the sea of faces, look for friendly faces or those who seem to be engaged. Remember that the audience is on your side and help engage them by explaining rather than reading and including personal stories if appropriate to help them relate to you.
Other methods to think about are:
Pausing to check your posture, pace, gestures, volume and tone
Taking a sip of water
Using a timer
After your presentation concludes, take time to stretch, reflect on your performance and make notes for next time. Be sure to celebrate yourself also.
Proper preparation
You need to ask a lot of questions when planning a presentation relating to your purpose, audience, venue, time allotment, level of formality and what you want people to learn.
Once you answer those questions, you can begin organizing your presentation into three parts:
Introduction—what will be discussed and what the audience can expect
Content—section breaks
Closing—summarize what was covered and highlight take home messages
Many people become consumed with the presentation itself. Delivering a great podium presentation is not about the slides.
Keep it simple when creating your slides—people don't want to be read to for an hour. Slides should contain bullet points and rarely complete sentences. Try to have more white space than words. It's OK to use pictures or cartoons, but make sure they are adequate for your setting and help to reinforce your message.
Practice, practice, practice
Statistically people spend 90% of their time readying their PowerPoint or presentation with only 10% of the time spent on preparing their speech. Ideally, you need to devote at least half of your time to practicing your message delivery.
It's also a good idea to use the relaxation techniques mentioned above when practicing so that your body becomes accustomed to rehearsing after relaxing. Here are some additional thoughts to consider when practicing:
Practice in front of a mirror
Say the words out loud
Use a timer to ensure you can complete the presentation on time
Anticipate the unforeseen
I still see major technology or audiovisual issues at every conference I attend. Although you should hope for the best, be sure that you prepare for the worst:
Bring a printed copy of your slides
Bring two electronic forms of your presentation (flash drive, email to yourself
Arrange to test the video or audio at least 30 minutes before you present
Anticipate the session starting late, a prolonged introduction or a speaker running over their time
When it comes to questions, let the audience know when you'd like them to ask them: during the presentation or at the end. Take your time when answering questions and be honest if you don't know the answer. Anticipate and prepare to answer some frequently asked questions on your topic, and if you finish early, but no one has any questions, you can ask and answer your own questions.
I hope you walk away with a few useful techniques to engage your audience. Remember, practice makes perfect. Do you have any other presentation techniques you use to engage your audience? I'd love to hear them.