Donald P. Pinkel, MD
Hospital's founding medical director set the scientific trajectory for curing childhood cancer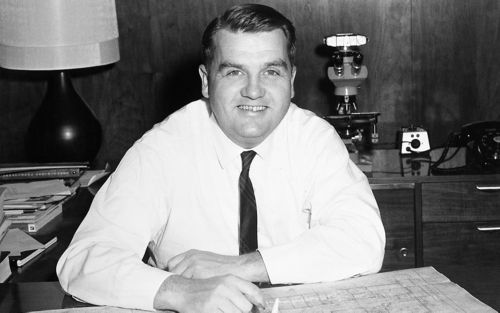 Donald P. Pinkel, MD, the founding medical director of St. Jude Children's Research Hospital, died March 9, 2022, in San Luis Obispo, California. He was 95 years old. A giant in the field of oncology, Pinkel served St. Jude from 1961 to 1973 and proved to the world that childhood cancer was a curable disease.
At St. Jude , Pinkel made medical history by creating an effective therapy for acute lymphoblastic leukemia (ALL), a disease once considered almost universally fatal.
"Heroes are known for their bravery. Dr. Pinkel had the courage to tackle childhood acute lymphoblastic leukemia, a then incurable disease, for which many believed a cure was impossible. The comprehensive approach he developed remains the backbone of treatment today."
- Ching-Hon Pui, MD, Oncology chair
Arriving at St. Jude in 1961—a year before the hospital opened—Pinkel began recruiting researchers and clinicians who shared his belief that cures were possible—a conviction met by incredulity from many in the scientific and medical community. During his 12-year tenure, Pinkel forged a collaborative culture and established an enduring medical model that would change the course of pediatric cancer treatment worldwide.
"Dr. Pinkel dared to dream big," said St. Jude President and CEO James R. Downing, MD, who holds the Donald Pinkel Endowed Chair of Pediatric Cancer Treatment. "We owe a tremendous debt of gratitude to him. It's because of what he accomplished, because of his leadership, because of the people he recruited to St. Jude, that we exist today."
A native of Buffalo, New York, Pinkel worked in Boston with renowned researcher Sidney Farber, MD, and served as chief of pediatrics at Roswell Park Cancer Institute before accepting a position at a fledgling research center in Memphis, Tennessee. There, he had the opportunity to treat children who, at other institutions, were offered only palliative care. Pinkel was convinced he could use techniques he had honed in the lab to cure children with cancer. 
"Dr. Pinkel changed my life. I came to St. Jude from Chile in 1970 for a David Karnovsky fellowship in pediatric oncology. He told me to better understand the rationale for childhood leukemia therapy, clinicians should work closely with basic scientists. At the time, St. Jude was one of the few institutions that offered such opportunities."
- Gaston K. Rivera, MD, emeritus faculty 
"What made me want to come to St. Jude was that we had the opportunity to take science and to meld it with great humanity," said Pinkel, who established the first integrated children's hospital in the South.
At St. Jude, Pinkel created what he called the Total Therapy approach to ALL treatment, dividing the regimen into a series of studies that combined multiple anticancer drugs with radiation treatment. At a 1962 meeting of a National Cancer Institute-sponsored cooperative research group, his plan was rejected—prompting St. Jude to leave the organization.
"I recall Dr. Pinkel's response to a faculty member upset about having to walk through the patient waiting rooms on his way to his laboratory every morning. He asked Don if he could arrange for a separate entrance for the scientist. Don's immediate response was 'I want you as a scientist to see the children every day to realize the importance of our mission here at St Jude.'"
- Robert Webster, PhD, emeritus faculty
"My hypothesis was that there were some leukemia cells that were sensitive to one drug and other cells that were sensitive to another. But if we used all these drugs at once and hit them along different pathways, we could permanently inhibit the development of resistant cells," he later told a reporter from Smithsonian magazine.
The combination therapy yielded a 50% survival rate—the first significant cure rate for generalized cancer. The Total Therapy approach is still used at St. Jude, which now has a 94% survival rate for ALL. In addition to designing basic research programs and innovative clinical trials, Pinkel created a program to address malnutrition in local infants and children. This program led to creation of the federally funded Special Supplemental Nutrition Program for Women, Infants and Children, or WIC.
"When I first came to St. Jude as a student in 1972, I was impressed that Dr. Pinkel encouraged anyone with a good question or a good idea to speak up, as long as you had done your homework. He knew that the development of effective treatment of childhood cancer would require innovation from all corners of St. Jude."
- William E. Evans, PharmD, former St. Jude director and CEO
For his accomplishments, the physician achieved world renown, receiving the Albert Lasker Medical Research Award, the Charles F. Kettering Prize for Cancer Research, the Pollin Prize for Pediatric Research and many other national and international awards. In 2017, the year he was inducted into the Tennessee Hall of Fame, St. Jude dedicated a research facility in his name. The Donald P. Pinkel, MD, Research Tower houses an array of cutting-edge scientific programs that have helped fuel advancements and will continue to pave the way for new discoveries.
After leaving St. Jude, Pinkel held leadership roles at a series of hospitals and medical schools in Wisconsin, California, Pennsylvania and Texas. In his later years, he served on the faculties of California Polytechnic State University and the University of Southern California, Los Angeles.
"Dr. Pinkel's legacy lives on through St. Jude and the countless lives saved through his work," Downing said. "His tenacity as a researcher, his compassion as a physician and his drive to solve some of medicine's most difficult questions have made him an inspiration to thousands around the globe. At St. Jude, we continue to honor his life by carrying forward his work, chasing big dreams and seeking the day when no child dies in the dawn of life."