#Doctors, #Scientists and #MedTwitter: Emerging advancements of scientific and professional collaborations on social media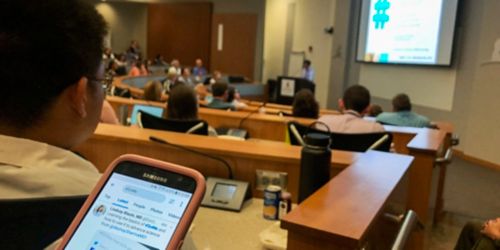 Research organizations, like every other part of society, are harnessing technology to create effective ways of developing, sharing and disseminating information. Social media has become another emerging digital technology for both scientists and their institutions.
The St. Jude Pediatric Cancer Genome Project and St. Jude Cloud are two projects that are heavily invested in technology. A natural next step is to include other technologies that can offer academic and scientific benefits for researchers.
Akshay Sharma, MD, of St. Jude Bone Marrow Transplantation and Cellular Therapy, and Nicole Alberts, PhD, of Psychology, talk about the growing importance and relevance of social media in the scientific and clinical communities through their own experiences, specifically with Twitter.
A case for Twitter
Despite the ubiquity of social media, Sharma says some people are uncomfortable with it as a form of professional engagement. At the same time, researchers should be using it to advance their research and academic connections.
"Using Twitter is not about how to get 10,000 scholars to follow you on social media," Sharma says. "Rather, the more important focus is how to leverage social media in academics, science, self-promotion and company exposure."
Sharma says he sees Twitter as the most beneficial social media platform because that is where conversations among academics, scientists and researchers seem to be growing the fastest. He offers statistics, benefits and examples of how Twitter works best for researchers.
"Sixty percent of the content is sharing and discussing science and scientific advances on Twitter," he says. "Facebook seems to have taken a different approach with personal content—it is not as prevalent in the scientific community."
Twitter benefits scientific research because when researchers are exposed to new research questions, they can offer insights. This platform enables the scientific community to be collaborative and truly advance research outcomes.
For those who still have trepidation about the platform's relevance, Sharma shares a tweet from Jason Frank, MD, a clinician-educator at the Royal College of Physicians and Surgeons of Canada.
"Within the next decade," Frank said, "you won't be able to be a successful scholar without having some activity on social media."
The benefits of microblogging with hashtags
Twitter is like a public "microblogging" social media site consisting of 280 characters or fewer. Within each tweet, one uses information indexing, which is preceded by the hashtag, or #, that helps direct groups of users to topics relevant to their interests and professions. A few examples of these indexes include #medtwitter, #hcsm, #academictwitter, #psychology, #mentalhealth, #tipsfornewdoctors and #childhoodcancerawareness. These hashtags offer directed advice, whether users are researchers networking with established doctors or newcomers in search of professional advice.
Much like on Google Scholar, where researchers can search for papers and new literature, academic professionals use Twitter to follow other scientists and post about their own research advances. The popularity of using Twitter for these purposes is increasing.
The more a tweet is shared, the more a paper is read, the higher the Altmetrics score. Sharma adds that Twitter has become a viable platform for researchers because it amplifies voice, disseminates research, increases networking opportunities, helps individuals develop their professional brand, and levels the playing field between newcomers and more established scientists.
"You can be a newcomer to the profession and have intelligent conversations with those widely established in the field," Sharma says. "It does not matter what your professional status is."
Research shows that within the last four years, impressions on Twitter have grown from 10 million to 150 million, which solidifies how networking is rapidly changing within the platform. Impressions are the number of people exposed to an individual's post. But Twitter is not only popular among individuals in these professions; it is also embraced by respected publications and organizations such as New England Journal of Medicine and Mayo Clinic, who offer guidance on how to use Twitter in a professional capacity.
PreachScience accelerates through social media

Sharma offers insight into why scientific and academic communities benefit from engaging on the platform. First, the typical "in-reach" of scientific study takes 10 to 15 years for information and research to reach the general public. Many times, the research "preaches to the choir" for a while before it gets any recognition beyond the scientific community.
"There is nothing wrong with this model, but it simply takes longer to get information out to the public," Sharma says.
With social media "outreach," on the other hand, information moves through the process much faster, starting with scientists, then the post and then members of the media, who deliver the news to the public. It all happens much faster because impressions and engagements help with research exposure as many interested groups move through their newsfeed and preferred hashtags.
Social media is also becoming a part of the tenure and promotion process, where metrics are used in assessments. Professional and research exposure through these platforms offers credibility, and research institutions are starting to recognize those who put forth social media efforts.
Conferences offer larger teaching moments as Twitter has become a virtual-attendance forum for those unable to attend meetings. The platform's real-time nature allows for a more engaging experience, where attendees can comment on, or build a discussion around, a particular presentation. This becomes a way to spread information to others who may be interested, or create conversations without disruption. Conference presenters benefit because they can improve their future work based on comments received during their presentations.
Explaining science to social media users' modern attention span
Researchers are finding new ways to adapt to the changing demands of the public as they try to promote their research, and Twitter has become a platform that accommodates user demands for conciseness. Brevity is not only seen on the platform's 280-character limitation, but it is also seen in images, memes, videos and other visual elements.
Alberts explains that scientists can leverage their research most effectively if they use visual abstracts, which offer a new opportunity to disseminate information to a wider audience in digestible ways.
"Infographics and videos get more exposure, and they are easy to understand in a shorter amount of time," Alberts says, "especially on a platform that is built around consistent scrolling and short attention spans."
Of course, scientific research cannot always be reduced to a blurb or a single image, so Alberts offers an example of how researchers can use images and tweets in inventive ways to create detail in a short amount of visual space.
Alberts explains that the "tweetorial" is an effective way to use Twitter for topics that require more explanation or commentary. She defines the "tweetorial" as a series of tweets used for educational purposes, which offers an expansion on the 280-word tweet limitation by offering a series of tweets in procession. The procession of tweets becomes a narrative, with each tweet numbered accordingly (1/10, 2/10, 3/10, and so on) to help readers follow along.
Research shows that people retain information best when content is offered at a pace in small doses. The "tweetorial" is an effective way to leverage information that requires more than a single tweet without overwhelming the reader.
Avoid the "time suck" and other social media traps
Social media has created names that resemble something from a fairy tale or science fiction story: "time suck," "trolls," "lurkers," "ghosting," "newsjacking," "viral," "imposter" and "Twitterverse." All of these names are created for a reason (some are benign, where others can be toxic), and it is important to know how to use the platform successfully. For some, these concepts can be intimidating.
Alberts explains it is possible to use Twitter for occupational benefits without falling into these traps, especially if Twitter is used mindfully. She offers a list of suggestions to help users create a balanced and healthy relationship with the platform and with others.
• First, it is important to remember that patient information cannot be posted on any social media site. Patient images, specific symptoms, illnesses and other personal information should never be offered in a tweet.
• Second, it is important to avoid negative engagements. "Trolls" are known for inciting arguments on tweet threads. Alberts suggests it is best to ignore them, just as one would ignore any kind of bully. Engaging in arguments waters down the purpose of why you are posting information in the first place.
• Third, set time limits to avoid "time suck;" use it during down times or when there is nothing pressing on your schedule, for example. Alberts suggests following those who you want to learn from to keep the platform use focused.
If you are one of many researchers who still feel intimidated by Twitter, or you do not have time to manage a social platform but you know you can benefit from the exposure, Alberts suggests looking to your organization's communications, public relations and social media teams.
For example, the St. Jude Communications Department works with doctors and researchers to promote their new findings, publications, promotions, recognitions and awards on all social platforms. Providing this service benefits the institution as much as it does the researchers.
Sharma and Alberts encourage researchers to use Twitter to create professional and collaborative relationships, promote research and publications, offer professional advice when warranted, and gain exposure for institutions and organizations.
"It is worth the effort when users take a mindful approach to using social media," Alberts adds.