A doctor's journey fueled life-saving work at SAFER Ukraine for children with cancer
Asya Agulnik, MD, MPH, arrived in the United States with her parents more than 30 years ago as a refugee. She was 8 years old, an only child who spoke little English, confused, angry and longing for those left behind.
Agulnik thought of her family's journey from the former Soviet Union as she recently traveled on a U.S. State Department jet from Poland to the U.S. Now a medical doctor with a master's degree in public health, she was accompanying four pediatric cancer patients and their families evacuated from Ukraine to St. Jude Children's Research Hospital for continued treatment.
"For me personally, this trip mimics my own immigration to the U.S. in the early '90s—leaving as refugees with an uncertain future ahead of us," she told colleagues in a March email. "One of the mothers asked me, after 12 hours of travel, if the sun would ever go down (we left and are arriving in daylight). I remember being impressed by this exact thing when immigrating to the U.S. as a child, what I called my 'travel with the sun.'"
From refugee to physician
Agulnik became a pediatric critical care specialist with degrees from Harvard University, University of California, Berkeley and Stanford University School of Medicine. Now 39, she is an assistant member of the St. Jude Department of Global Pediatric Medicine and leads the St. Jude Global Critical Care Program. She is a married mother of two young boys.
She is also director of the St. Jude Global Eurasia Regional Program. The region includes Ukraine, Belarus, Poland and 12 other countries. The program is part of a larger St. Jude initiative launched in 2018 to improve survival rates of children with cancer and other catastrophic life-threatening diseases worldwide. To do that, St. Jude Global set out to create regional networks of institutions and providers to share life-saving knowledge, technology and organizational skills.
Since February 24, Agulnik has led the St. Jude Global response to the Russian invasion of Ukraine. The global humanitarian effort is called SAFER (Supporting Action for Emergency Response) Ukraine. What began in a room with St. Jude Global staff and regional partners in Ukraine, Poland and Moldova just hours after the war began now includes Fundacja Herosi in Poland, the Polish Society of Pediatric Oncology and Hematology plus other foundations, international organizations, health care institutions and providers.
The SAFER Ukraine patient registry now includes more than 1,000 children with cancer and blood disorders. That number includes more than 600 patients and their families whom SAFER Ukraine helped to evacuate from Ukraine to Poland and onward to 16 countries in Europe and North America for treatment.
Mentors reveal possibilities
Growing up in Chicago's large Russian community, Agulnik gravitated toward veterinary medicine until she met the first of a series of mentors who set her on the path toward that evacuation flight in March.
At Harvard, she met Sean Palfrey, MD. The pediatrician had spent his career working with socioeconomically disadvantaged children in Boston. She volunteered in a program he helped create to connect families with community resources, including housing and job training.
At Stanford, Paul Wise, MD, MPH, a professor of pediatrics and health policy, solidified her commitment to global child health and addressing health disparities. For decades, Wise has worked on those issues in rural Guatemala as well as in civil war zones in Yemen, Iraq and central Africa.
"Paul's approach is a community partnership model that seeks to elevate and support our partners, rather than coming in with an agenda," Agulnik said. "Carlos has a very similar approach."
Carlos is Carlos Rodriguez-Galindo, MD, director of St. Jude Global and chair of the St. Jude Department of Global Pediatric Medicine. The two met in Boston as Agulnik completed her internship, residency and a pediatric critical care fellowship. At the time, Rodriguez-Galindo was on the Harvard Medical School faculty and headed several clinical initiatives at Dana-Farber Cancer Institute and Boston Children's Hospital.
Rodriguez-Galindo retuned to St. Jude after four years away to expand the hospital's international outreach efforts. Agulnik was among those he recruited to join him. Two years later, St. Jude Global was announced. Rodriguez-Galindo asked her to become the first director of the new Eurasia Regional Program.
While Agulnik spoke Russian, her feelings toward the country of her birth were complex. "Ultimately, my personal story did not matter because all children everywhere deserve to have good cancer outcomes," she said. "Russian children, Ukrainian children, they all deserve that opportunity."
When the war began, the Eurasia Program had grown to 15 countries, 49 institutions and more than 250 professionals.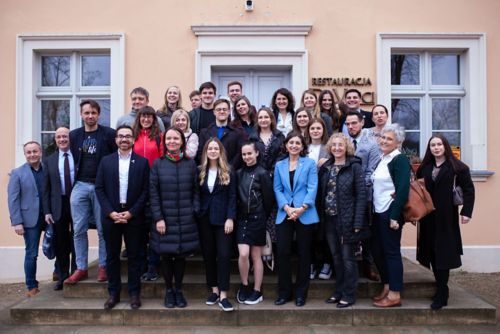 SAFER Ukraine: Links in a chain
Agulnik and her St. Jude Global colleagues knew about the Russian troop buildup and threats in the lead-up to the invasion. "We were nervous about the situation, but didn't think something would actually happen," she said. "When it did, all sorts of things had to change – and change fast. The first week is just a blur."
Her critical care training helped her navigate the early days of the war. She and her St. Jude Global colleagues in Ukraine, Poland, Moldova and beyond quickly connected and responded to the changing situation via virtual calls, emails, texts and more. 
In a matter of days, the triage center that later became Unicorn Marian Wilemski Clinic was established in Poland and a system for evaluating Ukrainian patients for evacuation had begun. The process not only required transportation, but an online patient registry, translated medical records and safe, appropriate medical care.
"It was the personal connections that made the difference at the start," Agulnik said. "It was the ability to pick up the phone and say, 'We need help.'"
Within days of the invasion, Agulnik called Anna Raciborska, MD, at the Institute of Mother and Child in Warsaw. Raciborska heads the institute's pediatric oncology and surgical oncology department. The institute is part of the St. Jude Global Alliance. Raciborska is part of the regional advisory committee for Poland and a longtime friend of Rodriguez-Galindo.
"I remember asking her, 'How do you feel about taking some Ukrainian patients,'" Agulnik recalled. "Raciborska just said, 'Of course, let me make some calls.'" Poland now cares for more than 200 Ukrainian children with cancer and blood disorders.
That's just one example of how people and organizations have responded to the crisis. "The partnerships involved in St. Jude Global and SAFER Ukraine are between institutions, but the actual work is between humans," Agulnik said. "SAFER Ukraine works because we have human connections with our partners.
"St. Jude is one link of a chain and without every single one of those links SAFER Ukraine would not exist. These efforts only work when it is truly an equal collaboration with one very clear objective," she added.
"Kids just want to be kids."
Agulnik has traveled to and worked in Unicorn clinic several times since the war began. She recalled a 6-year-old boy whose brother needed to be seen at a hospital. While the patient and mother traveled from Unicorn to a hospital, the brother stayed behind under the watchful eye of clinic staff.
"He was about the same age of my older child, and I understood him in a 6-year-old boy way,"
Agulnik said. When the boy and his family left the clinic to resume treatment at another treatment facility, the boy seemed sad to leave the clinic behind.
"Kids are like that. They don't care that there's a war, or that they have cancer. They just want to be kids," she said. "The fact we can facilitate that is pretty cool."