'There's no bad weather, only bad clothes'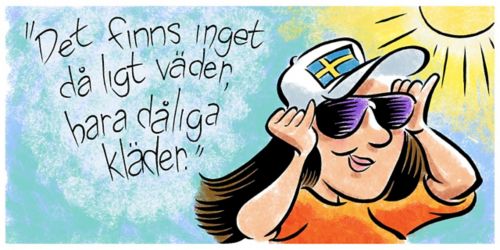 When Åsa Karlström came to St. Jude to interview for a postdoctoral fellowship, she thought the weather was wonderful. It was 40 degrees; it felt like winter; it felt like home. St. Jude made her an offer, and she accepted.
Karlström's first day was July 3, 2006. She wasn't prepared for the summer heat.
"I spent that first July thinking, 'It's going to get better in August,'" Karlström recalled. "'It's cooler in August.' But then August came, and it got hotter. I realized that I really should've read up on this."
Nevertheless, she adapted.
A native of Stockholm, Sweden, Karlström is the project coordinator for the Developmental Biology and Solid Tumor program. She works under the direction of Michael Dyer, PhD, chair of Developmental Neurobiology. In work and play, she exemplifies a certain life stance connoted by the Swedish proverb "Det finns inget dåligt väder, bara dåliga kläder."

Translation: "There's no bad weather, only bad clothes." When circumstances are less than ideal, Karlström finds a way to muddle through, to sing in the rain.
In many ways, the circumstances of Karlström's childhood were ideal. Her mom, an editor and writer, and her dad, a social worker, kept her busy with scouting, 4-H, vaulting (it's like gymnastics on horseback), swimming, ballroom dancing and playing the flute.
She found time to wander around in nature too. The Stockholm Archipelago, with its islands, islets and rocks, was minutes from her doorstep. Karlström remembers camping with her family, walking in the snow, testing the ice, preparing meals over an open flame from a camping stove—and, of course, arguing with her older brother.
At age 19, she moved to Uppsala, a 40-minute train ride from Stockholm, to attend college—the Swedish University of Agricultural Sciences, SLU. She completed graduate work at SLU, earning a PhD in microbiology.
At St. Jude, Karlström uses her scientific skills to coordinate projects that shape the landscape of pediatric cancer research. For example, she's part of the team creating a data portal that will launch later in the year for the Childhood Solid Tumor Network (CSTN). Researchers from all corners of the world will be able to see CSTN data and use powerful research tools for their own studies via St. Jude Cloud.
After work, Karlström often succumbs to the call of local nature. She walks the path next to the Mississippi River, she runs the trails in Shelby Farms and she bikes the Big River Crossing with her significant other, Greg. In December, Karlström completed the St. Jude Memphis Marathon, a distance she'd never attempted before.

During long runs in the afternoon sun to get ready for the event, she always wore sunscreen and "good clothes"—running shorts, long-sleeved shirts and hats to shield the sunlight and keep her eyes focused on the horizon.
"The sun goes down a little at midnight," said Karlström, describing the awe of glimpsing the midnight sun during the summertime in Sweden, "and then it goes up again at 1, but it's right on the horizon.
So, it's never really dark. It's like a light blue, with a little fire on the horizon."