CRNA Week celebrates the nurse anesthetists who are always there, for every heartbeat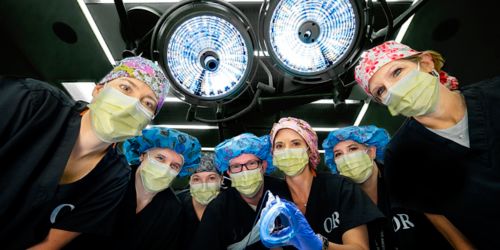 This is an update to a Progress post from 2020.
"I will stay with you throughout your surgery."
Patients receive this reassurance every day from a certified registered nurse anesthetist, or CRNA, at St. Jude Children's Research Hospital. The care these advanced practice providers deliver combines the science of pediatric anesthesiology with the compassion of nursing to help ensure a safe anesthesia or sedation experience during procedures.
St. Jude nurse anesthetists are celebrating their profession and their passion during the 2021 National CRNA Week (January 24-30). This team of 19 CRNAs are part of the St. Jude Center for Advanced Practice Providers, which includes nurse practitioners, clinical nurse specialists and physician assistants.
As members of anesthesia care teams, CRNAs collaborate with physician anesthesiologists, along with members of surgical and procedural teams, to provide quality patient care.
Songs, toys and flavors of pediatric anesthesia
Surgery and anesthesia can be frightening, but CRNAs stay next to their young patients "for every heartbeat," administering anesthetics and watching over their vital signs.
"Each CRNA has their own technique for establishing rapport with patients and easing their anxiety before going to sleep, such as inviting patients to participate in their own care by allowing them to place their own monitoring devices," said Rachel Turner, CRNA manager at St. Jude. "We also give patients the option of choosing their favorite gas flavor to help us blow up the anesthesia balloon, hold their teddy bear or other favorite toy, and listen to their favorite song while falling asleep." 
Beyond anesthesia: uniquely qualified for pandemic support
"It has been wonderful to watch the St. Jude CRNAs continue to focus on ensuring the health and safety of the patients and themselves throughout the COVID-19 pandemic," Turner said. 
As advanced practice providers with critical care experience, all CRNAs are qualified and fully prepared to change roles and contribute to advanced airway management, hemodynamic monitoring, and ventilator management to provide life-saving interventions to patients as needed.
A continuum of care for every patient
St. Jude CRNAs focus mainly on perioperative management and anesthesia plans for a variety of noninvasive and invasive procedures.
"We are trained for a variety of additional clinical responsibilities, including preanesthetic care, postoperative care, pain management and other subspecialties," Turner said.
Beyond their responsibilities in the Surgery Clinic, St. Jude CRNAs provide anesthesia during MRI and PET scans, interventional radiology (image-guided access to operative sites), venous access, radiation therapy and outpatient procedures.
Working together with Division of Anesthesiology physicians, the St. Jude CRNAs are present with the patient throughout each procedure, maintaining a continuum of care.
Their surgical process begins with a preanesthetic assessment of the patient, followed by an anesthetic plan—like a pilot's flight plan—in which the CRNA selects an anesthetic technique appropriate to the case. Then monitoring modalities are applied or inserted for collecting and interpreting patient physiological data.
For the duration of each procedure, a CRNA focuses on establishing and managing the patient's airway through any combination of endotracheal intubation, mechanical ventilation and pharmacological support, along with methods similar to those of respiratory therapists. The nurse anesthetist stays with the patient during emergence from anesthesia.
"Having the opportunity to care for the patients at St. Jude is a privilege and the best part of the job," Turner said. "This can also be the most challenging part for us, internalizing the struggles that the patients and families go through. It is so hard seeing them in pain or disease progression."
Becoming a CRNA
Turner's team members underwent their lengthy and challenging CRNA training at institutions such as the University of Tennessee Health Science Center, Arkansas State University, Union University, Middle Tennessee School of Anesthesia and Xavier University.
Nurse anesthetist training starts with a bachelor's or graduate degree in nursing and at least one year of critical care (ICU) nursing experience before qualifying for admission to a nurse anesthetist program. Certification currently requires a master's degree from an accredited program, but that bar will be raised soon.
"Beginning with incoming students in 2022, doctor of nurse anesthesia practice (DNAP or DNP) programs will become the standard for nurse anesthetist education," Turner said.
Whether they are master's or doctoral programs, the journey to nurse anesthesia certification can range in duration from 28 to 51 months, in which students complete more than 9,000 hours of clinical experience. Following certification and licensure, many CRNAs continue with fellowships in specializations such as advanced pain management, acute surgical pain management, pediatric nurse anesthesiology and trauma/critical care nurse anesthesiology.
Learn about career opportunities for advanced practice providers at St. Jude.