Create new traditions during this holiday season under COVID-19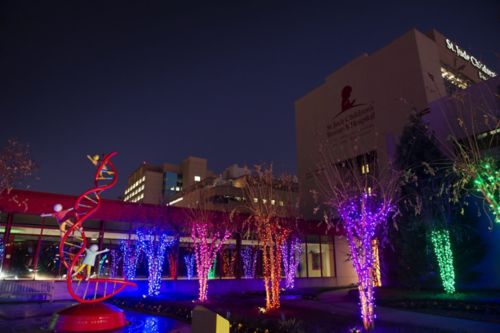 This year, COVID-19 has forced many individuals and families to make difficult choices regarding holiday celebrations. The Centers for Disease Control and Prevention reports that celebrating virtually or with members of your own household poses the lowest risk for spreading COVID-19. In-person gatherings that bring together family members or friends from different households, including college students returning home, pose varying levels of risk. However you decide to celebrate, others in your life may see it differently – which could create stress. We asked Niki Jurbergs, PhD, and Megan Wilkins, PhD, of St. Jude Children's Research Hospital's Department of Psychology, to offer some tips on ways to manage this difficult year.

Question: Based on your previous experience of helping families get through holidays during difficult moments in their lives, what are your top suggestions for helping people navigate the holidays during the pandemic?

Jurbergs: In my work with children with cancer, I have watched families face holidays enduring unthinkable stress and grief while being separated from one another. Some find ways to create new traditions. Some try to replicate existing traditions as best they can under restrictions imposed by distance and health. Some choose to not celebrate or even acknowledge the holidays. At St. Jude, many families with children being treated for cancer make the difficult decision to skip holiday gatherings to protect vulnerable patients. Over the years I have heard parents express such sentiments as, "It just isn't worth the risk," or "Our family will just have to understand that getting together is simply too dangerous," or "We'll celebrate twice as big next year when this is behind us."

Similarly, families facing the upcoming holidays should feel empowered to do what is comfortable for them given the risks and restrictions associated with the pandemic. We should all adjust our expectations and prepare for things to be different this year, and in many cases, difficult. It can help to talk about these losses with our loved ones and share what we are missing most this holiday season.

Q: How important is it to factor in the mental and emotional health of people facing one of the most challenging holidays of their lives?

Wilkins: It is critically important, especially given mounting "pandemic fatigue," that we attend to our mental health and the emotional well-being of others. We must first take stock of our mental health and ensure we are not trying to pour from an empty cup. Simply observing your loved ones is a great start. Trust what you see. It seems simple, but focusing on active listening and support is a meaningful way to be there for people now. Have the courage to tell someone if you think they'd benefit from professional help.

Q: Hundreds of thousands of Americans have died since the COVID pandemic started, leaving behind families who loved and cared for them immensely. What strategies can you offer the families left behind for getting through the holiday season?

Jurbergs: Celebrating holidays for the first time without a loved one is unspeakably difficult. Not only has this pandemic taken the life of a loved one, the threat remains. Not only are they grieving, they are continuing to face the virus and its ongoing impact. These families should not feel obligated to engage in holiday traditions as they have in the past. It might feel better for some to not celebrate at all this year. Conversely, some families may find special ways to honor and include the memory of their lost loved one. As with all family decisions, this one is highly personal.

Q: How can we broach the conversations with family to stay safe this upcoming holiday season?

Wilkins: Understand what you feel comfortable with for yourself and your family. Going into discussions with extended family with a solid understanding of what feels comfortable will reduce frustration and anxiety. Listen to others' perspectives. Really listen. This doesn't mean you should change your mind, but it shows respect and demonstrates the love you have for your family.

What is the CDC suggesting about the holidays?

Jurbergs: Holiday gatherings will likely look very different this year. The CDC released guidelines for hosting and attending holiday gatherings. The safest ways to celebrate the holidays are with members of your immediate household and virtually with others. If you are planning to gather with family members or friends who do not live with you, the CDC encourages the same measures that have been recommended to minimize the spread of COVID-19 since the beginning of the pandemic: physically distance from others, wear a mask and wash your hands frequently.
Gathering outside and keeping the gathering small might help to decrease the risk of spreading the virus. The CDC has information about how to celebrate safely this holiday season, including explaining the risk levels of different types of gatherings and celebrations.

Q: If we do have get-togethers in person, how can we stay safe?

Wilkins: The safest approach is to gather in person with only those in your household. If plans include gathering with those outside of your immediate household, the CDC recommends outdoor gatherings when possible and for all of those involved to wear a mask, even outside, except when eating. If weather permits, gathering outside and remaining six feet apart may provide a venue to watch sports, movies or reminisce. It may even start a new holiday tradition.

Q: How can we protect our elderly relatives from loneliness?

Jurbergs: Reaching out to those at the highest risk for loneliness is more important than ever. Phone calls, video chats, cards, drive-by parades and even socially-distanced outdoor visits can help them feel connected and reassure them that you are thinking of them. Many of our elderly relatives are physically and emotionally vulnerable to the effects of the COVID-19 pandemic. If you choose to distance yourself from elderly and high-risk loved ones this holiday to protect their physical health, be mindful of protecting their emotional health.

Q: What is some advice for making holidays special from afar?

Wilkins: Planning virtual connections is critical. This may mean playing virtual board or card games with others. Sharing meaningful family recipes and preparing these recipes together virtually may also be fun. Focus your energy on what is meaningful to you during the holiday season and think creatively about ways to engage safely in activities that support that.
---
This holiday season, Jurbergs and Wilkins remind us that the year's unprecedented struggles have happened to all of us. Humans are incredibly resilient. Practicing gratitude by reflecting on what we are grateful for builds resilience. Be sure to tend to your mental and physical health by being mindful of the five pillars of health: sleep, nutrition, exercise, completing daily activities and social support. Although the holidays aren't going to bring the sigh of relief we were all hoping for, they can be a time for us to think about what we've been through, the challenges we've faced successfully, and why we are thankful.