Remote control: St. Jude employees adjust to home workspaces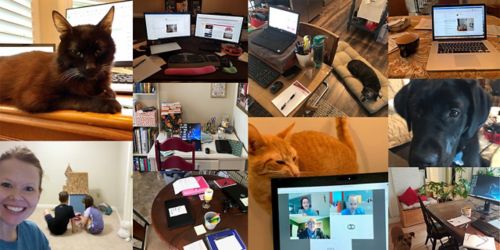 While clinicians, nurses and other essential staff focus on keeping patients safe, thousands of their colleagues are figuring out their home workspace during the COVID-19 pandemic.
Many are working from home for the first time. Their new workstations range from elaborate to functional to a shared space with pets.
Despite the distance, a spirit of teamwork remains, as each employee's work serves the same goal—to advance the treatment of patients with catastrophic diseases. After all, that mission is at the center of everything we do.
Home base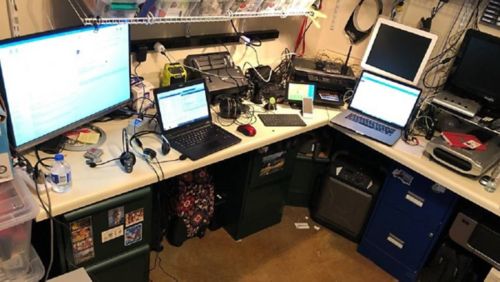 Gary Cox, a senior business analyst in the Clinical Informatics division of Information Services, has had a lifelong fascination with computers and has plenty of equipment to work from home.

Cox has various phone devices, printers, scanners, a keyboard for his cell phone, USB chargers and even a backup generator and backup Internet connection. He communicates with his colleagues through Teams, WebEx and Zoom.
"I miss seeing my co-workers, but we still do video conferences," said Cox, who is part of the clinical systems tech integration team. "I also miss walking across the St. Jude campus for exercise, but I have a treadmill that has a laptop mounted on it so I can continue to work while walking." Since working remotely, he's logged a mile each day.
Jack Hubbard, a senior programmer analyst in Clinical Informatics, said that working remotely has been an adjustment, but he is also taking advantage of technology.
"I'm still able to provide the same support to my user group and collaborate with my team. Now, if I could only decide which sweats to wear," Hubbard said.
Making it work
Ginger Carney, director of Clinical Nutrition Services, spent 14 days in self-quarantine after traveling to New Orleans to help plan her daughter's October wedding. Her team had its biweekly staff meeting the first day after her return. She decided to host her first conference call staff meeting in her 11 years at the hospital.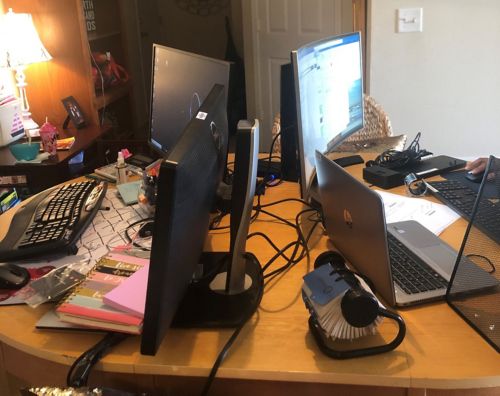 "It was different but fairly effective," Carney said. "Moving forward, I think it will be better to use Zoom, WebEx or some other platform that will allow us to be face-to-face."
Half of Clinical Nutrition is working remotely with a plan to switch teams every week between on-campus duties and at-home work.
While departments and teams are deciding on how to get their work done, many remote workers are discovering how to juggle time with their family.
Tasha Askew, a grants accountant in Financial Services, is sharing a workstation with her mother, who is an administrative specialist for FedEx.

"We've come up with a schedule to be able to continue to work and to help keep my 4-year-old daughter entertained while learning," Askew said. "It's been a challenge, but we are making it."
Pet Projects
While employees continue to find ways to make remote work more efficient, their animal companions are providing the occasional distraction and comforts of home.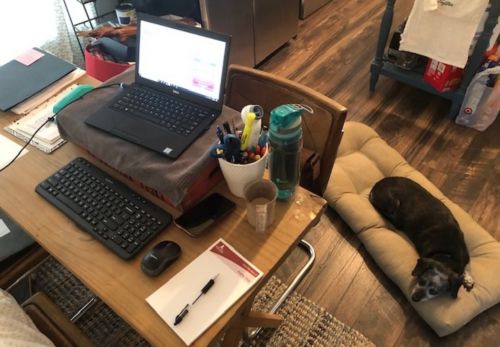 Emily Browne, DNP, RN, director of the Transition Oncology Program, compiled a comprehensive resource packet with remote-working tips, checklists, tutorials and instructions for Psychosocial Services. The thorough document was missing only one detail—how best to conduct video conferencing with two attention-seeking cats. Her friendly felines, Spyder Monroe and Littleton Wensleydale, aren't shy about waltzing or leaping in front of the screen during WebEx sessions.
Kathy Cox, affiliate patient navigator in the Affiliate Program Office, shared a photo of her workstation with her colleagues to provide some levity to an odd work week. Her new coworker, Lily Mae, a 14-year-old, mixed-breed dog, poses for the camera from her comfortable bed next to Cox's desk.
"She is not sad about this work-from-home development and insists on me pulling her bed into the dining room each morning where I'm working," Cox said in the email to her team. "She never leaves my side and is a comfort right now in these uncertain times."