A father's love: Even during uncertain times, cherish the memories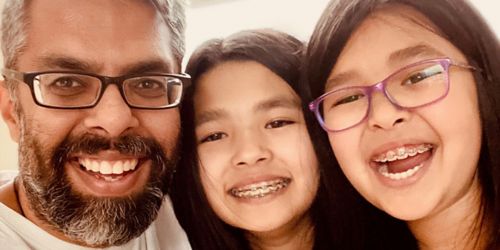 I am the luckiest father in the world. I'm sure there are hundreds of millions of dads across the world who share that same thought. My daughters, Kiran, 11, and Simi, 8, enrich my life more than I could have ever imagined. They brighten my days and make troubled times less daunting.
But this year, more than any other, I think we are all more aware and appreciative of family, friends and the endearing memories we share.
I look forward to a special Father's Day with them after the past few months of uncertainties and difficulties. It hasn't been easy. We've made sacrifices to ensure the health and safety of our family. At the beginning of the COVID-19 pandemic, my ex-wife and I decided that our daughters would stay with another family member.
As essential workers, both of us thought this was the best thing as the pandemic evolved. We didn't know as much in those early days about the virus, but this was the safest option. This was one of the hardest choices we have ever made.
During that time, I was still working in the lab each day on the St. Jude campus. My initial duties involved helping my colleagues get access to resources and data so they could work from home. Then I transitioned into keeping our work in a holding pattern until researchers returned to the lab. I was one of only two essential workers in our lab. It was a very strange experience. The hustle and bustle in the hallways at St. Jude have always been something I've enjoyed.

Not seeing my daughters for the first three weeks of the stay-at-home orders was very hard. After we got into a new rhythm with our work schedule, we started to see the kids again. When I saw them for the first time, I was greeted with the best hugs imaginable.
While my daughters and I were quarantined together, I made sure that I spent time being present. In the moment. I cherished this extra time. We spent hours working on jigsaw puzzles, playing video games and curling up together to watch movies. This is a unique time that they will remember for the rest of their lives. I want them to remember it as a fun time with me, one where we bonded even more and made lasting memories.
This year, I am going to make the most of Father's Day. Rather than them celebrating me, we will celebrate our relationship. We will be doing all their favorite things like rock climbing, eating ice cream and enjoying their favorite foods. I have two very loving girls, and I will be doting on them profusely.