Central line infections: How ETHEL helped us to bust a myth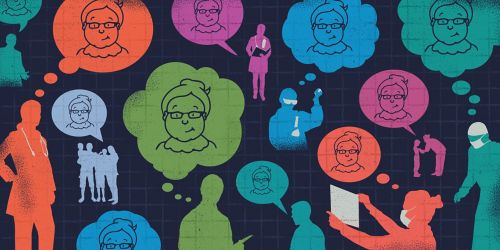 Who is ETHEL?

Before we thought of ETHEL, we looked at a basic clinical tool — central venous catheters — and wondered why central line infections were happening. Infections are always serious business, but in the case of pediatric cancer patients and other immune-compromised children, infections can be life-threatening.
The question we asked was simple, but getting the answer took a team effort. ETHEL, the name of the procedure we investigated, was a unifying image for all of the patients, clinicians and other support staff.
In the end, ETHEL was a blessing and a curse, guiding us down an unexpected path.
Our clinical research work is published in The Lancet Infection Diseases, but I want to share how a simple line drawing helped bring together myriad departments and hundreds of people to find out critical, life-saving information.
It wasn't easy, but it sure was fun.
The problem with central lines
Central venous catheters, known as central lines, are indispensable for drawing blood or delivering fluids and chemotherapy medicines during pediatric cancer treatment. But about a fourth of cancer patients develop at least one central-line infection during therapy. These infections require hospitalization and delay cancer treatments. In some cases, infections require us to remove the central line with surgery.
In the laboratory, ethyl alcohol effectively kills bacteria in central lines, even in the robust bacterial colonies known as biofilms. This simple solution is used in some medical centers to try to prevent new or recurring central line infections in patients.

A possible solution to central line infections, but does it work?
We conducted the most rigorous clinical trial of ethanol therapy for treatment and prevention of central line infections in children with cancer and other blood disorders.
This research required an enormous amount of coordination and work. We needed the assistance of patients and families, as well as physicians, nurses, clinical teams, pharmacy staff and others to ensure we were following all ethical and safety guidelines.
In addition, we needed people to recruit patients for the study and then educate them about study guidelines. We asked hundreds of people to do something for us in addition to their day-to-day duties. On top of this, we asked patients to participate in a therapy where they didn't know what they would receive.
Providing something small and consistent could tie all the departments and patients together. Something simple and recognizable to alert everyone and provide a reminder about the study.
Our answer was ETHEL.
ETHEL became the image for communicating through this study. ETHEL's image greeted every message sent to those involved.
Maintaining the message
We also employed other tactics to keep motivation and engagement levels high. Keep in mind, nurses and physicians have a lot going on day-to-day. Patients and their parents also have more pressing issues than maintaining documentation for a study. We used whatever we could to keep ETHEL on their minds—pizza and donuts for nursing staff, milestone messages marking increased enrollment, bracelets that identified patients as part of the study—and it worked.
We were happy to recognize clinical staff for helping in the study. When we visited participating patients, we, too, wore our ETHEL bracelets. It became something of a badge, like we were all part of something greater. Because of ETHEL, the study took on a life of its own in helping us spread our message — that we're trying to answer an important question.
We did NOT find what we expected
Our study involved 94 patients, some treated at St. Jude and others at The Royal Children's Hospital in Melbourne, Australia. Patients were randomly assigned to the same six-month schedule of central line treatment, half with ethanol therapy and half with saline solutions.
About half of the patients in both groups developed new or recurring infections, and nearly 6 in every 10 patients in the ethanol group needed blood thinners to open blocked central lines. Only a third of the saline solution group required similar thinners.
In short, ethanol-lock therapy doesn't work. This wasn't what we expected, and it surprised our entire team. I didn't know whether to laugh or cry.
But we did find, definitively, that the treatment used by many institutions simply doesn't work. That's important; we need to make sure that we never use treatments that cause more harm than good, but … ouch.
ETHEL's last stand
All patients in the study received certificates for completing the project. Our question wouldn't have been answered without help from the patients and everyone else involved.
For us, it's back to the drawing board to find a way to prevent these infections. We have some other ideas, but I often reflect on our study and ETHEL. ETHEL helped unite folks on different continents to settle an important question.
We should all be proud of that.