Cancer drugs for children in critically short supply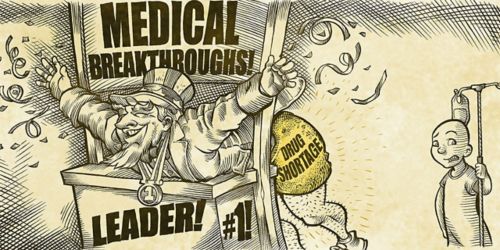 Back in 2012, three of my colleagues published a piece in the New England Journal of Medicine warning of the shortage of a drug used to treat pediatric Hodgkin's lymphoma, and detailing the impact the shortage would have.
Fast-forward seven years, and today shortages of pediatric chemotherapy drugs are sadly commonplace, with little relief in sight.
Most people would be shocked by how many drug shortages exist even in a resource-rich country like the United States. As of last year, there were 238 drugs in short supply, a number that has fluctuated well above 300 during the past few years.
Shortages of any drug supply can result in medication errors and inadequate treatment. With chemotherapy drugs, the consequences are life-and-death, and at St. Jude Children's Research Hospital we see the most vulnerable patients affected. Research done here and elsewhere has helped bring 5-year survival rates for children with cancer to close to 85% — an astonishing success. But the backbone of that success is an integrated regimen of drug agents for which there are few, if any, alternatives.
Many chemotherapy agents essential to the treatment of a host of childhood cancers, including leukemias, brain tumors, lymphomas, bone tumors, neuroblastoma, retinoblastoma, and germ cell tumors, have recently been in short supply. The five common chemotherapy drugs in recent shortage also happen to be part of the treatment for nearly every form of childhood cancer.
Unfortunately, these shortages aren't uncommon. Chemotherapy agents are consistently among the drug classes in short supply, and two-thirds of children's oncologists and pharmacists have reported that shortages affected care of their patients. The shortage is not limited to chemotherapy agents, but also important medications used to provide supportive care to children with cancer.
How is it that a country as resourceful as ours, renowned for producing innovative and life-saving new drugs, continues to fail critically ill patients this way?
The problem isn't a lack of innovative new drugs, it's a lack of older but proven drugs that are no longer profitable for their manufacturers. The older and cheaper a drug is, especially a generic, the more likely it is to be scarce.
My colleagues and I believe that the only way to reverse this crisis is cooperation between government and industry to make sure proven, lower-cost, essential drugs remain available. To that end I would like to make the case for creating an "Essential Medicines List" for pediatric cancer treatment that would serve as a model for creating similar lists for other conditions. After all, children and adults alike with serious diseases or who need critical maintenance drugs, such as insulin, also deserve the guarantee of medicines.
The federal government would both require that drugs on the list remain in adequate supply, and stockpile listed drugs for unforeseen emergencies, such as when World War Two led to major shortages of penicillin. 
As doctors we realize, of course, that a tremendous amount of research and financial investment goes into the development of these life-saving drugs. The premise for an Essential Medicines List is that consistent access to standard of care medications takes priority over more costly and less proven medications. Drug companies should be offered incentives or subsidies for keeping the listed drugs in stock.
The most important factor for predicting the outcome of a child with cancer is where they are born. In the United States, the survival rate for children with acute lymphoblastic leukemia (ALL), the most common childhood cancer, is 90%. But the drugs responsible for this miraculous record have been in use for more than 50 years, and in the past decade, 8 out of 10 agents used in the treatment of ALL have been temporarily unavailable.
Let's not let the worldwide leader in medical breakthroughs also be the leader in shortages of lifesaving drugs. Our patients deserve better.