We Envision a Bright Future for Children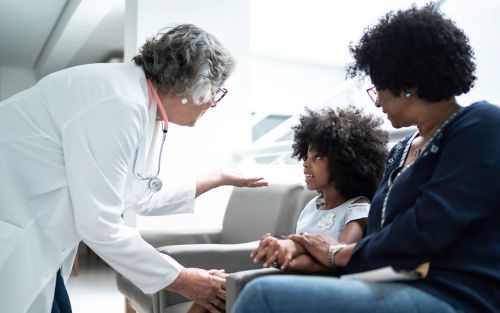 St. Jude strengthens its HPV cancer prevention measures — and calls on partners to join the Path to a Bright Future campaign
Human papillomavirus (HPV) is a common virus that affects both women and men. HPV can cause 6 types of cancer, including cervical, vaginal, vulvar, anal, penile, and oral or throat cancers. According to the Centers for Disease Control and Prevention (CDC), nearly 80 million Americans — 1 out of every 4 — are infected with the virus. Of those millions:
Nearly 36,000 will be diagnosed with HPV cancers this year
More than 200,000 will be diagnosed with cervical pre-cancer
Another 630,000 cases of HPV cancer will be diagnosed globally this year.
Vaccination offers hope

There is good news. A safe, effective vaccine can provide long-lasting protection against HPV cancers.
HPV vaccination is a vital tool in broad cancer prevention. But HPV vaccination coverage in the U.S. has been slow and lower than the national Healthy People 2030 goal of 80%.
Research shows that HPV vaccination successfully prevents HPV cancers and pre-cancers. But the COVID-19 pandemic interrupted delivery of key health services for children and adolescents, including HPV vaccination for cancer prevention.
Path to a bright future
The St. Jude Children's Research Hospital HPV Cancer Prevention Program recently launched a public awareness campaign called Path to a Bright Future . This campaign spotlights the need for and benefits of adolescents ages 9–12 receiving on-time HPV vaccination by their 13th birthday.
The campaign was unveiled on International HPV Awareness Day, during the final segment of a week-long seminar series. This event featured medical and public health experts, along with HPV-cancer survivors and parents, discussing challenges around HPV vaccination and possible solutions.
More than 500 people registered to join these seminars.
Seminar series highlights

Addressing Inequities in HPV Vaccination Coverage and HPV Cancers

"It takes all of us. It takes the voice of the community, particularly if we are dealing with diverse communities. The more we involve them, the more likely we are to succeed."
— Jesse Nodora, DrPH, Moores Cancer Center at UC San Diego
Experts addressed key barriers and opportunities to improve HPV vaccination coverage among black, indigenous, people of color (BIPOC) and those living in rural areas. The presenters highlighted the importance of collaborating with BIPOC and rural communities when designing and implementing programs for HPV cancer prevention.
Improving HPV Vaccination Coverage: Starting at Age 9
"Don't wait; vaccinate. Start HPV vaccination at age 9."
— Sherri Zorn, MD, FAAP
Researchers and health care providers discussed the importance of HPV vaccination beginning at age 9. By starting then, children can complete the 2-dose HPV vaccination series by their 13th birthdays. Other benefits timing and effectiveness of HPV vaccination.
Health care providers and systems are critical to leading the charge for starting HPV vaccination at age 9.
No Longer Invisible: Learning from Survivors
"Let's not just be inspired by these stories; let's take action!"
— Tamika Felder, Founder and Chief Visionary Officer, Cervivor
HPV cancer survivors shared their journeys, beginning with their cancer diagnoses. The panelists bravely told their stories, highlighting the often-overlooked impact of HPV cancer treatment and care on physical and mental health that may be "invisible" to an outside eye.
Participants also discussed:
Reducing the stigma associated with HPV cancers
The urgency of HPV vaccination as a cancer-prevention tool
Life moving forward
Mitigating the Effects of the COVID-19 Pandemic on HPV Vaccination Coverage
"Pay attention to the urgency of the shortfall [of HPV vaccinations]. We have lost a decade."
— Debbie Saslow, PhD, American Cancer Society
Experts described the devastating impact of the COVID-19 pandemic on HPV vaccination coverage in the U.S.
Millions of doses of HPV vaccine have been missed as a result of:

Fewer well-child visits
Loss of the health care workforce
Failure to prioritize the HPV vaccination
Urgent efforts are needed to address the widening gap of HPV vaccination coverage.
Celebrating International HPV Awareness Day 2022
"[HPV vaccination] is nothing more than cancer prevention. Aren't we [parents] so lucky to have that at our disposal for everyone to receive?"
— Lisa Steenhard, parent panelist
Parents and caregivers who chose HPV vaccination for their children, health care provider champions, and Path to a Bright Future campaign partners discussed the importance of HPV vaccination for cancer prevention. During the event, organizers unveiled the Path to a Bright Future campaign .
Visit stjude.org/bright-future to learn more about Path to a Bright Future, read more about the HPV, find HPV cancer-prevention resources, and join the campaign as a partner. For more information, email PreventHPV@stjude.org.