Becoming the best pediatric cancer hospital for our patients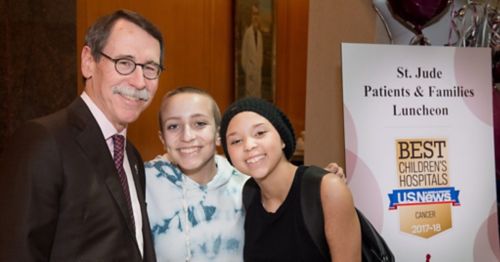 St. Jude Children's Research Hospital is a special place where we're setting standards for patient care and experience. Although we have a strong legacy of accomplishments, we're constantly pushing for novel discoveries in emerging areas, especially childhood cancer. We're leading the way to improving care not only throughout the United States, but on a global scale.

Each year, U.S. News & World Report publishes a list of the nation's best children's hospitals. Families of children with rare or life-threatening illnesses use that ranking to find the best medical care for their children.

As part of the survey, each hospital provides data on hundreds of topics directly related to patient care. The survey evaluates clinical outcomes, the level and quality of hospital resources related to patient care, patient safety, and expert opinion among pediatric specialists.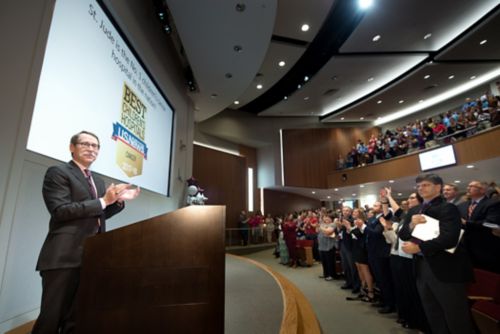 Every single person in our hospital plays a part—from the chef who prepares nutritious food to the social worker who problem-solves to ease a family's burden, from the nurse who holds a child's hand to the technician who calibrates equipment.

I'm pleased to announce that St. Jude Children's Research Hospital was named the nation's No. 1 cancer hospital in the 2017-2018 "Best Children's Hospitals" list. The ranking reflects our excellent ratings for five-year cancer survival, patient safety, nursing staff and commitment to clinical research. We have the top survival rates for some of the world's most aggressive pediatric cancers, including acute lymphoblastic leukemia and medulloblastoma.
We owe a debt of gratitude to our staff at St. Jude and at our affiliates, as well as our health care partners and referring physicians who help us provide the best care for the children we serve. We also want to thank our St. Jude families. Because of their insights and feedback through the Patient Advisory Council and Bereaved Parents group, as well as chatting with me over coffee, we've continued to enhance the patient experience here. They've helped us with projects from the design and construction of the proton therapy waiting room to our inaugural palliative care symposium.
It has truly been a collaborative effort. Thanks go to all of these individuals for their dedication—for giving their talents, energy and heart to the mission of St. Jude.