St. Jude deploys a behavioral emergency response team to help patients in crisis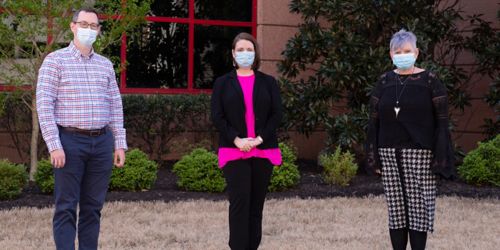 "Calm down, calm down."
In a crisis, you might say this to yourself or someone else, but it might not improve the situation.
"If someone tells you to calm down, it's not very helpful," said Jennifer Harman, PhD, a pediatric psychologist at St. Jude Children's Research Hospital.
You may already be familiar with medical rapid response teams: trained nurses, doctors and other health care personnel who go wherever they're needed to deliver emergency medical care.
But you may not be familiar with behavioral rapid response teams. They help patients when there is "just too much to handle," said Andrew Elliott, MD, a psychiatrist in the Department of Pediatric Medicine.
Of course, a life-threatening disease is a major life stressor.
According to Elliott, the distress a patient might feel in a hospital may have more than one source. Diagnosis type, treatment regimen (certain medications, for example), preexisting circumstances, among many other possibilities, could lead to agitated, even aggressive behavior — hitting, grabbing, biting, kicking. So, how do you address what Harman and Elliott refer to as dysregulated behavior? How do you keep everyone safe?
Just as in a medical emergency, you respond in a rapid, structured way.
A behavioral emergency
"The hospital's new behavioral emergency response team or BERT is a rapid response team for a behavioral issue," said Sherry Johnson, RN, a clinical project manager in the Department of Patient Safety who played a key role in the team's development.
BERT officially launched in December 2020.
The nursing-led team goes to any patient care area in the hospital to support patients and frontline staff. They use verbal de-escalation techniques designed to calm emotions and spark rational thinking.
They've already received calls.
One young patient with a history of behavioral challenges refused medications and wouldn't allow clinicians to take vital signs. Soon, she became combative with staff. The team was able to talk about the case and brainstorm ideas.
"It was like an impromptu patient care conference for an emergency issue," Elliott said.
The child responded to the team intervention, and the nurses continued with their care.
Behavioral emergencies stress family members too.
Harman said many parents, grateful for their child's good medical care, feel disheartened and desperate when their child isn't cooperative. Or they might feel defeated because they don't know the right thing to do.
The structured team intervention, however, appeared to make a difference in this case. Harman said the patient's mother felt supported and valued as an integral part of the care team.
A team effort
For many years, many St. Jude nurses and clinical staff members have completed nonviolent crisis prevention and intervention training.
Trainees learn how to de-escalate tense encounters. They monitor their tone of voice and body language. They engage in active listening and restate the patient's concerns to show understanding. They convey empathy and provide practical choices while setting limits.
Johnson demonstrated the type of practiced response needed to open a constructive dialogue with a patient: "I hear what you're saying. I understand that that's making you upset. Tell me what it is that we can do to make it better."
The BERT project began in 2018 following a series of behavioral emergencies. With contributions from multiple departments and areas across the hospital, the project team devised BERT activation procedures; revised policies and standards of care; created order sets for the hospital's electronic health record system; and put staff educational resources in place, among a plethora of other tasks.
In a 2019 survey, 41% of St. Jude nurses reported encountering a patient-related behavioral crisis in the preceding 12 months, which intensified the effort to create a team.
And, without a doubt, explained Johnson, the importance of a culture of workplace safety has increasingly come to the fore.
Workplace safety recommendations have been released by the Joint Commission, a health care accrediting body; the American Nurses Association; and the U.S. government's Occupational Safety and Health Administration.
"Everybody had a different vantage point," Johnson said, reflecting on the recent BERT rollout. "I really think that's one of the things that made the project successful."
An ounce of prevention
Prevention outperforms cure.
"We want to do things before the behavior escalates," Johnson said.
St. Jude developed a behavioral-risk screening tool as part of this strategy. In use since August 2020, nurses screen patients upon admission to the hospital; nurses screen outpatients every six months.
Those who score in the at-risk range are referred to the departments of Child Life or Psychology for additional support.
Harman, who led development of the screening tool, said it allows the care team to track behavior, see escalations and develop a plan to respond, which decreases the likelihood of needing to activate BERT.
But the team is standing ready if needed.
The BERT call
Any employee — a social worker in an office, a physical therapist in the rehabilitation clinic, a nurse in a procedures area — can activate a BERT.
"We want people to know how to call, when to call and that it's OK to call," Johnson said, talking about the effort to educate staff.
The caller simply says, "I need a BERT."
Then a hospital operator makes an overhead announcement. Team members receive a page. And the BERT team — a nursing supervisor, a nursing staff leader and a Security officer who stays nearby but out of sight — go to the patient's location.
If the patient's behavior cannot be de-escalated, the team can call the licensed practitioners responsible for the patient's care. These physicians and advanced practice providers can help determine how best to proceed to keep the patient and staff members safe.
Whenever a BERT is activated, a notification goes to the patient's primary medical team, along with multiple departments ready to provide psychosocial services: Child Life, Psychology, Social Work and Spiritual Care Services.
Getting better and better
Johnson said behavioral emergencies are highly emotional events.
A team debriefing is conducted immediately following the incident to answer questions: Is everyone physically and emotionally OK? Is there a behavioral plan for the patient? Does Psychology or Psychiatry need to be consulted? What needs to occur to make certain that the behavioral emergency doesn't occur again?
Led by the BERT clinical staff leader, team members discuss the incident, receive support from their colleagues and identify strategies to ensure the safety of everyone.
In one recent debriefing, the team became aware of a technical glitch with the overhead paging system. A team member couldn't hear it.
The problem was quickly fixed by the Biomedical Engineering Department, who turned up the volume.
Indeed, the team strives to get better and better with each call.
No detail is too small when it comes to keeping patients and staff safe.