Clara Mason: Humble Pioneer
As one of the first advanced practice nurses at St. Jude, Clara Mason contributed to clinical trials that helped save countless lives.
---
Many years ago, a wide-eyed 5-year-old huddled in an austere waiting room in John Gaston Hospital, one of the few facilities in Memphis where African American families could receive care. Doctors and nurses rushed by, heedless of the preschooler who yearned so desperately to help her ailing father.

That day, the little girl lost a parent but found a vocation.

Decades later, the memory is still fresh to nurse practitioner Clara Mason.

"My father had died, and I hadn't been able to go in to see him or do anything for him," she says. "But I had an instinct to take care of other people. I decided I wanted to be a nurse."

Not only would she grow up to be a clinician, but Mason would become a trailblazer for advanced practice oncology nurses—contributing to landmark clinical trials, eliciting the admiration of world-renowned physicians, and inspiring the gratitude of families at St. Jude Children's Research Hospital."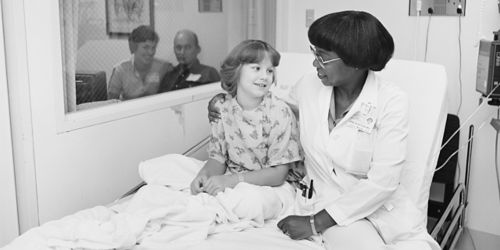 No. 66 in 1966

During her childhood, Mason served as the family doctor—tending to the scrapes and bruises of her dolls and her eight rambunctious siblings. She was delighted when her mom presented her with a child-sized medical kit, complete with candy pills, a wooden tongue depressor and plastic stethoscope.

Upon graduation from high school, Mason enrolled in a nursing program. That's when she obtained her first horrifying glimpse of childhood cancer.

"I remember taking care of a little patient as part of my pediatric training," she says. "Her name was Maria, and she had leukemia. She had bruises everywhere. At that time, all they could do was give her blood transfusions. There wasn't much therapy available, and the survival rates were really, really grim. That was an eye-opener for me."

After five years of working in a local hospital, Mason was recruited as employee No. 66 in a new medical facility that had recently opened across town. At St. Jude Children's Research Hospital, patients of all races shared the same hospital rooms and dining facilities. African American clinicians treated white patients—which was unheard of in Memphis—and the hospital's director, Don Pinkel, MD, had arranged for area hotels to provide equal housing and dining facilities for all St. Jude patients, regardless of race.

When Mason arrived for her first day on the job, she encountered a young doctor sitting at the nurses' station. The new employee was astounded when Pinkel arose from his seat, walked around the desk, shook her hand and welcomed her to St. Jude.

"I'll never forget that, because at that time, if a doctor came into a room and there were no seats, you were supposed to stand up and give him your seat," Mason says. "That's how it was. But he was very gracious."

That 1966 encounter set the tone for Mason's 36-year tenure at what was then a small, unknown hospital.

"When families would come into town, they would get a cab at the airport and ask the cab drivers to take them to St. Jude," Mason recalls. "Often, the cab drivers wouldn't know where St. Jude was. They would call the hospital, and the operator would have to tell them that it was next door to St. Joseph Hospital. Then the cab driver would know where to bring the patient."

Empowering excellence

St. Jude physicians soon recognized that Mason was not only a hard worker with a heart for children, but also a brilliant clinician. Pinkel decided to train a handful of nurses to become nurse practitioners.

"This was in the era before the nurse practitioner movement began," explains Belinda Mandrell, RN, PNP, PhD, director of Nursing Research. "Clara was a pioneer for our advanced practice nurses at St. Jude. The physicians who worked with her noted her as being a stellar nurse, and they respected her clinical judgment. So, they mentored her to an advanced practice level before we actually had advanced practice nurses."

Eventually, Mason would return to college and earn a BSN and master's degree.

Her on-the-job training began without warning, under the tutelage of Joe Simone, MD. As Mason was preparing to assist him with a procedure one day, he suddenly instructed her to put on gloves.

"I thought, 'Well, maybe he wants me to pass him something sterile off the tray,'" Mason says. "But he proceeded to tell me to prep to do a spinal tap and bone marrow aspirate. As he showed me how to do them, I was sweating. Luckily, he had picked a kid who was skinny, so I got it on the first stick. And then I got the bone marrow aspirate, too. He was a good teacher, so I have to give a lot of credit to him."

Oncologist Victor Santana, MD, says Mason's expertise was legendary. He and other young physicians turned to her for advice and assistance.

"In those days, leukemia patients had a lot of bone marrows and spinal taps, and there was no general sedation," Santana says. "You had to become very proficient—do it quickly, but also safely. Clara was absolutely exceptional from a technical perspective. If we had a difficult patient for whom we couldn't get a bone marrow or a spinal tap, we would call her. She was always willing to help and to teach others. She was a resource to all of us as we were learning."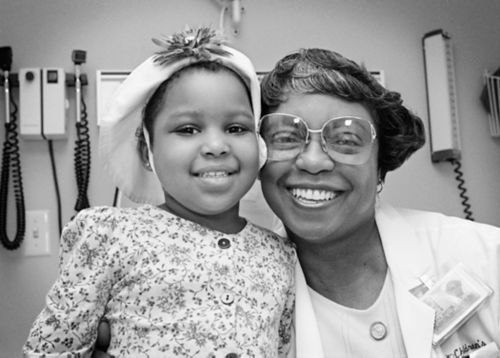 Publishing discoveries
Mason is the author or coauthor of 20 papers published in medical journals ranging from The Lancet and Journal of Clinical Oncology to Cancer. These papers offer a glimpse into her efforts to help boost the survival rates for acute myeloid leukemia (AML) and other diseases. Not only did Mason take care of the patients in these clinical trials, but she also handled much of the data collection.
"She specialized in AML, the toughest disease at that time, with patients relapsing all the time," recalls Ching-Hon Pui, MD, who worked with Mason for 21 years. "She was always calm, with a smile, no matter how stressful the situation. She was beloved by everybody—her colleagues, the patients and the parents.
"I've worked with many, many fantastic nurse practitioners, but she is the best I have ever worked with. I cannot name one weakness she had."
A haven in times of strife
Mason arrived at St. Jude during a time of extreme social unrest, which culminated in the death of Martin Luther King Jr. at St. Joseph Hospital, located adjacent to St. Jude. Amid the violence and martial law, Mason found respite within the walls of the region's first integrated children's hospital.
 "Once you walked into the doors of St. Jude, it was like a different world," she says. "What was going on outside was left outside. Of course, when you left St. Jude, you faced the reality of what was going on in the city and the nation. For instance, we had to have special badges to show in case we were stopped on the way to or from work. But St. Jude seemed like a different little town off to itself that had its own diverse population of employees and patients. We had people from all over the country and even the world working there—physicians from Brazil, Chile, Argentina, all over. But everybody seemed to get along, and everybody knew each other more or less. It was a friendly working atmosphere."
Expertise plus empathy
Toward the end of her career, Mason accepted a position in the hospital's After Completion of Therapy (ACT) clinic. Melissa Hudson, MD, director of the Cancer Survivorship Division, says Mason was highly regarded for her deep level of expertise and empathy for patients.
"Clara had the perspective of one who had lived through the war when patients didn't survive," Hudson says. "She brought that experience to the care that she provided in the ACT clinic. She knew the fear these families had experienced, and she could be calm and reassuring—providing information and educating them so that they could find their path forward. These patients were no longer struggling to live, but they were struggling to live a good life, given their side effects. She was able to help them find the resources they needed to have better lives."
Mason says her time in the ACT clinic was fulfilling because she could glimpse the continuum of care—an opportunity most oncology nurses never have.
"I got the chance to see some of the patients I had taken care of when they were much younger," she muses. "Now they were older. Some of them had even married and had families. It was like I had come full circle."
Small but mighty
In his office at Stanford University in California, Gary Dahl, MD, glances each day at a framed black-and-white photo. The image depicts a radiant young cancer survivor flanked by a petite nurse and two smiling physicians. Although Dahl has not seen Mason in many years, this photo reminds him of an extraordinary woman who enriched his career and taught him a few lessons along the way.
"Clara wasn't tall, but she was a giant," Dahl recalls. "She was magnificent, and nobody doubted her. I learned so much from her."
Mason says she is surprised that a physician 2,000 miles away keeps a photo of her in his office.
"I will always have a space in my heart for St. Jude," she says. "I have never really thought about my legacy, but I hope that everybody could see that I was really serious about my job, and that I loved the children as much as they loved me."