Advice for new graduates from a pediatric oncologist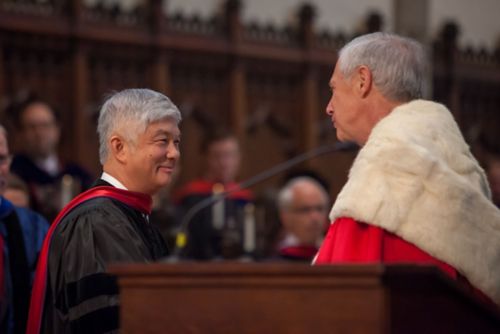 Ching-Hon Pui, MD, who celebrates his 40th anniversary at St. Jude this year, gave the commencement speech after receiving an honorary degree in science at Sewanee on May 13. Below is his abridged speech on how his journey to becoming a leading pediatric leukemia oncologist and researcher and his advice for new graduates pursuing their own goals.
I want to share with you some of the experiences that have shaped my life and professional career, and that hopefully will bear on some of your own goals and aspirations.
I grew up with two brothers and three sisters in Hong Kong in the 1950s and 60s. Both of my parents had to work to support the family, and therefore they counted on the older siblings to help the younger ones, including me, with schoolwork. My oldest brother would rather take me to play with him in the streets than complete the assigned homework. Of course, I was more than happy to comply. I went to a good Anglican school for elementary students and had frequent testing. The habits learned from my oldest brother translated to last-minute cramming for tests. It meant that the only time I studied for tests was during the morning service before classes started. As you might imagine, I was not doing too well at school and had a less-than outstanding academic record.
The turning point came in the 5th grade, when my English teacher approached me while I was waiting for a bus to return home after school. She smiled and told me that I was a good English student. Well, that wasn't exactly true. But the compliment stuck and became a motivating force in my academic life. I started doing my homework and began to pay more attention at school because I didn't want to disappoint her.
The lesson from the encounter at the bus stop is simple but profound. Whether you are a salesperson, a lawyer, a teacher, or a physician, treat your customers or clients as your family members or friends with kindness, compassion, understanding, encouragement, and patience. This strategy has worked well for me as a pediatrician, as I find it much easier to earn the cooperation of my young patients once they realize that I care for them, even if it means performing magic tricks and giving them small toys. It is rewarding to see their happy faces and their eyes light up in response. In fact, they often look forward to coming to the hospital to play instead of dreading upcoming procedures and chemotherapy. So, my first bit of advice is:
I am envious of this generation. In my day, there wasn't much for a kid to do growing up in Hong Kong. Not that I am a relic from the Stone Age, but we did not have the internet and certainly had no smart phones, Facebook, or Twitter to keep us occupied. We had to make our own toys out of paper and listened to the radio. It was a big deal to get to watch TV and a real treat to watch a movie.

A movie I saw in middle school changed my life. The film told the story of a young boy dying of leukemia caused by exposure to radiation from the atomic bomb. Watching this child and his loving parents suffer helplessly had an enormous impact on me, and I trace my decision to become a pediatric oncologist to that movie. At the time, I did not realize that leukemia was an incurable disease, and that most doctors in the 1960s refused to treat children with this disease, preferring instead to allow them to die "in peace."
After graduating from medical school in Taiwan 4 decades ago, I came to the U.S. to train as a pediatrician.  By pure serendipity or perhaps divine intervention, I was accepted into the residency program at St. Jude Children's Research Hospital, which was already famous for discovering a cure for
acute lymphoblastic leukemia
or ALL, the most common cancer in children. But back then, even at St. Jude, only 40 percent of the patients survived this cancer. During these early years, our job was tough. Many of our patients relapsed and most died, which proved heart-breaking and served to remind us to work harder to boost cure rates. What kept us going was that we were making incremental progress even with the many setbacks. The hard work eventually paid off. Today, more than 90 percent of children with ALL can look forward to a permanent cure. So, lesson two: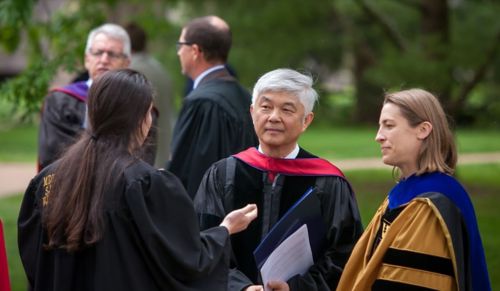 No matter which profession you choose, do not give up on your work easily. There is a Chinese saying that, "failure is the mother of success." And, Winston Churchill reminds us that: "success is the ability to go from one failure to another with no loss of enthusiasm."

Experiments in the laboratory may have to be repeated many times before a study is done. Sometimes, even when you've got it right, your work will be rejected by several journals before it is published, because some reviewers find the result unbelievable, or just too good to be true.
If you believe in your chosen work, I urge you not to give up in the face of rejection, but to persevere until you prevail. These reminders certainly apply to us at St. Jude. We know failure can be a constant companion. Losing even a single patient is not acceptable to us, and we also urgently need to extend cures to patients who live in low- and middle-income countries where most children with ALL still die. I certainly look forward to the day we can fulfill the dream of the late founder of St. Jude — Danny Thomas — that no child should die in the dawn of life, and that eventually we can cure all children with ALL worldwide.
Taking care of children with leukemia has taught me a lot. I admire the resilience of my patients. No matter how sick they are, they amaze me with their ability to bounce back, a trait that has taught me to be stubborn and slow to give up. I can afford to take this approach because I am blessed to be working at an institution where patients are treated with the best available approaches, regardless of their ability to pay. As a result, I have seen near-miraculous recoveries from practically incurable conditions.
I recall one patient's family who had actually given up all hope for their child. The patient needed intensive chemotherapy followed by a bone marrow transplant for the treatment of relapsed leukemia. His mother was the donor. During the intensive chemotherapy, he was found to have serious liver problems that could require a liver transplant and he lost his gallbladder. After the bone marrow transplant, he needed to have his spleen removed and developed a rare complication that left him completely paralyzed and in severe pain. He required respiratory support because he was not able to breathe on his own. Worst of all, leukemia cells reappeared in his bone marrow.
It was virtually hopeless and painful to watch him suffer. I was grasping at straws trying to find new ways to manage these complications. Fortunately, the transplanted cells from his mother had begun to grow and instilled hope that they would grow strong enough to overcome the residual leukemia, and that his organs might recover with time. Besides praying, I pleaded with his parents and persuaded them to give us some more time to deal with this crisis.
Each day was a struggle for them. I could not imagine how they felt during those three long months in the intensive care unit. Today, that patient is a happy teenager who is attending high school. So, lesson three, be patient.
There is an old Chinese saying, "盡信書, 不如無書" which means, "better to have no book than to trust it blindly." My advice is to always acquire new information with skepticism.

Much so-called conventional wisdom, whether from the book or internet, will turn out to be wrong or outdated. For example, textbooks on pediatric hematology-oncology always taught us that the brain is the sanctuary for leukemia cells because chemotherapy penetrates the blood-brain barrier poorly. As a result, for decades radiation therapy to the brain was considered the treatment of choice to eradicate leukemia cells sequestered in the brain. At St. Jude, we challenged that assumption and proved that the right combination of chemotherapy agents delivered into the spinal fluid and blood, could render brain radiation unnecessary. Consequently, it has been possible to cure thousands of children with high-risk ALL while avoiding the serious side effects of radiation. So, lesson four is:
As I look back, I realize that happiness and success in life can be elusive unless we first take care of our physical, emotional and spiritual needs, as well as our families, friends, neighbors and community. For me, the key has been to keep dreaming. I constantly think of a day when leukemia cures will be easier on the patients and their families, and will be available to all children worldwide. I also look forward to the day when we can prevent at least some types of leukemia from occurring in the first place. That's my dream. I challenge you to find your own passion and pursue it with intensity and imagination.