Addressing treatment-related mortality: Student's research spotlights need for supportive care

When medical student Bella Ehrlich started working with the St. Jude Department of Global Pediatric Medicine, she had a problem: a lack of data. Ehrlich and her colleagues noticed that the field of global pediatric medicine was missing critical data on the scope and scale of treatment-related mortality, particularly in low- and middle-income countries.
Ehrlich dove into the literature to compile the missing data, creating the most comprehensive global analysis to date regarding treatment-related mortality for pediatric cancer in low-resource settings. But her pioneering efforts revealed another problem. The data she gathered showed that nearly 7% of children who begin cancer treatment in low- and middle-income countries die from treatment-related causes, which represents up to a third of childhood cancer deaths. This statistic starkly contrasts with high-income countries where only 3-5% children with cancer die from treatment-related causes.
Published in The Lancet Oncology, the data will undoubtedly help the global medical community better understand this problem. But Ehrlich and her St. Jude colleagues also have a solution in mind —  supportive care interventions, such as Pediatric Early Warning Systems (PEWS), which may help narrow the gap and address the disparities in patient outcomes by reducing treatment-related mortality. 
"We want to ensure that every child who starts cancer treatment also survives to see the benefit," said Asya Agulnik, MD, MPH, St. Jude Department of Global Pediatric Medicine, and Ehrlich's mentor. "If children are dying from the toxicity of treatment, it doesn't matter if the treatment is effective." Agulnik is also director of the St. Jude Global Critical Care Program and Euro Regional Program.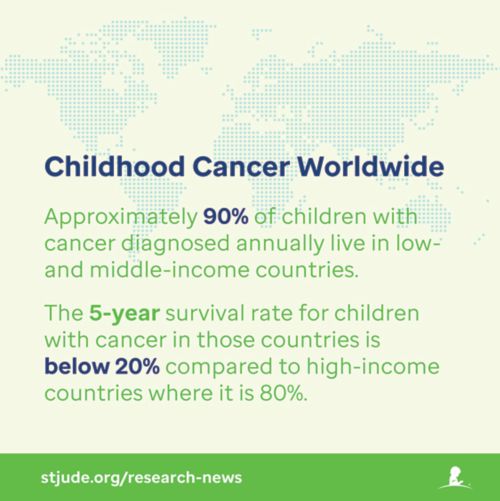 Finding answers in the data: Understanding treatment-related mortality
Ninety percent of children with cancer live in low- and middle-income countries where 5-year survival is below 20%. Efforts to address the disparities in care often focus on accurate and early diagnosis coupled with access to safe and effective treatments. However, the St. Jude team's work highlights the importance of supportive care for helping close the gap and save lives.
"We know that estimates of the burden of mortality in the United States or other high-income countries are not representative of what's happening worldwide, but we could not find that data compiled in any one resource," said Ehrlich, who is first author of the study.
Ehrlich first came to St. Jude as an undergrad. She was inspired by the work of the Department of Global Pediatric Medicine and St. Jude Global in the Euro Regional program, so she stayed on to work with the Department as an undergraduate and beyond, when she began medical school at Brown University. 
Ehrlich sifted through 13,269 published research papers linked to treatment-related mortality worldwide. She identified 501 studies representing 68,351 pediatric oncology patients across 66 countries for her analysis. In gathering this data, Ehrlich and her colleagues discovered that approximately one in 15 children receiving cancer treatment in low- and middle-income countries die from treatment-related complications. The work also revealed that while treatment-related mortality has decreased in middle-upper-income countries over time, it remains the same in low- and low-middle-income countries. This means that the disparity gap is growing over time.
"Treatment-related mortality represents a third of overall childhood cancer deaths after starting treatment, so if you're trying to reduce mortality, this is a big thing to go after. We knew this was a challenge in high-resource settings, but in resource-limited settings, we really had no idea about the scope of the problem," Agulnik said. "Now, we have the data to say that treatment-related mortality is highest in countries with the lowest resources, and it's not improving over time."
Supportive care interventions make a difference
While it was difficult to identify the causes of mortality because they were often not reported in research studies, Ehrlich and her colleagues did find that sepsis and infection are leading causes of treatment-related mortality.
"As we have adjusted our treatment protocols in high-income countries, we haven't had the same level of understanding about the treatment toxicities occurring in low- and middle-income countries where they don't have the same supportive care measures," Ehrlich said. "When we say supportive care, we think about infectious disease control, critical care, nutrition and palliative care. Those things work together to curb what we think of as treatment-related mortality."
PEWS are quality improvement tools to help identify clinical deterioration in hospitalized children. Investigators from St. Jude, led by Agulnik alongside partners across Latin America, have worked to bring PEWS into hospitals in the region. Agulnik and her collaborators published their data in The Lancet Oncology, showing that PEWS saves lives.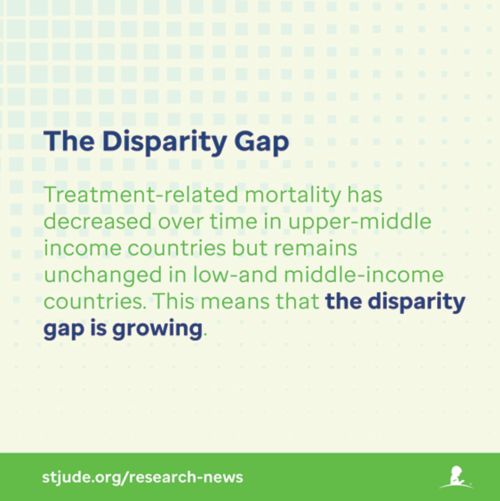 Children who are hospitalized can experience clinical deterioration events, defined as a change in a patient's status that requires a transfer to the intensive care unit (ICU) or an ICU-level intervention such as mechanical ventilation or cardio-pulmonary resuscitation outside the ICU. PEWS are designed to identify early signs of clinical deterioration in patients, to try to avoid these complications that can result in treatment-related mortality.
PEWS starts with an assessment given at the patient's bedside, which includes a scoring tool to evaluate a patient's neurologic, cardiovascular, and respiratory status alongside staff and family concerns. It considers vital signs, physical examination findings and treatment requirements. The score is interpreted with an action algorithm that guides the team through the next steps for that patient, which is adapted to the local care system.
"The treatment-related mortality systematic review identified the scope of the problem, and what we have with PEWS is one potential solution to that problem that we now know is most effective in the settings with the highest mortality rates," Agulnik explained.
Data-informed decisions
Together, the studies published in The Lancet Oncology provide the necessary information for the global pediatric cancer community to start making changes to improve patient outcomes.
"Now we have the evidence base to say that what we've been doing to date hasn't been working as effectively as it should," Ehrlich said. "This data will help us start the conversation about whether we need to adapt protocols and put more resources into supportive care measures so that we can reduce treatment-related mortality."