Change in health care is always in the air. How we adapt makes the difference.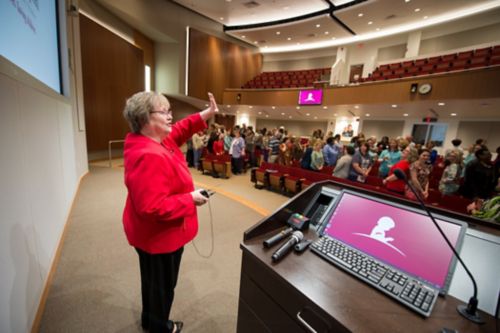 Change in health care is a constant throughout our lives. I've witnessed all types of changes as a nurse at St. Jude Children's Research Hospital.
I started at St. Jude in 1994 as an inpatient nurse, taking care of children with many different diseases. For the past 11 years, I've worked as a professional development educator, developing and implementing continuing education for nurses and other clinicians.
Consistent care in a changing health care setting
Earlier this year, nearly 300 patient care staff members gathered for the hospital's 20th annual Bettye Arnold Seminar. Arnold, who passed away in 1994, was a nurse at St. Jude for more than 30 years. While I cannot speak personally to the changes she witnessed, there's little doubt they were numerous and significant.
As St. Jude grew from a one-story hospital into a worldwide leader in pediatric cancer care and research, Arnold adapted her career along the way. She's remembered for her outstanding skill in caring for patients, her professionalism and for mentoring new nurses.
The seminar carries Arnold's name because of her consistent excellence. Each session promotes professional skills development for staff with patient care responsibilities. This year's seminar focused on the importance of remaining professional in the presence of change.
Adapting is part of the job
To stay professional, we should remember that we come to work for our patients, our families and our co-workers. Health care workers who can deal with daily change and still offer support to their colleagues are true professionals and a valuable asset to their organizations.
As St. Jude continues to grow, change is inevitable. We've seen the introduction of novel treatment protocols and technologies, met new department leaders and transitioned patients into a state-of-the-art facility.

Finding ways to make changes work
The biggest change I have seen is the move to electronic documentation of medical and nursing care records. Paper documentation had its issues: you had to read someone's handwriting; pages could get lost, damaged, misfiled or faxed to the wrong place; charts were mobile so not always readily accessible; and patients often had several three-inch binders with their information. We always found ways to adapt and make it work.
Computer systems started small and awkward, with lab information communicated to us, and some patient information available to us if we remembered what the codes meant. Nonetheless, they got better and will continue to get better.
In the not-too-distant future, nurses will document care by voice recognition and charting systems will look more like our smart phones and tablets.
The reality of health care is that we will not go back to the "good ol' days." Changes will continue to come that will increase our cure and survival rates even more, and we will need to embrace them.
View photos from the 20th annual Bettye Arnold Seminar
Slide activated

Slide activated

Slide activated

Slide activated

Slide activated

Slide activated