We can – we will – accelerate progress globally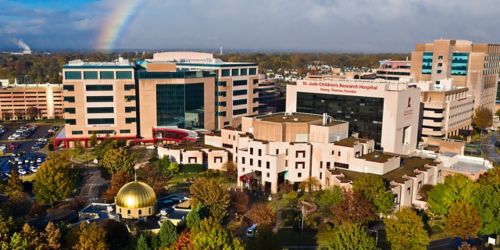 How can we leverage the gains St. Jude has made during the past six years? Through the 2022–27 Strategic Plan.
At St. Jude, we are bound by what I think is the perfect mission—to advance cures and means of prevention for pediatric catastrophic disease through research and treatment. That mission sets us apart from others and unifies the institution.
The charge to find cures and save children was at the forefront of our minds when we crafted the 2016–21 Strategic Plan. In many regards, that plan was a foundational document—a how-to guide for developing expertise and infrastructure to fuel cures for childhood cancer and other pediatric catastrophic diseases. It charted a path for clinical and scientific program growth, infrastructure expansion and reimagined international outreach efforts.
Under that plan, we made incredible gains. We increased the number of patients in our clinical trials, recruited world-class faculty and staff, enhanced laboratory research, invested in technology and expanded the campus. The global alliances and partnerships that we forged during the past six years hold the promise of one day ensuring children with cancer in low- and middle-income countries have access to quality care. What's more, many of these achievements occurred amid a worldwide health crisis unlike any before.
Writing the next chapter
With the plan's conclusion, we stand at a new inflection point—stronger than ever and poised to address the most important challenges before us.
We know there is still tremendous work to be done across childhood cancer, sickle cell disease and other life-threatening illnesses. The devastating impact of infectious diseases has been brought into sharp focus with the COVID-19 pandemic.
How does St. Jude leverage the gains made during the past six years to accelerate progress globally?
St. Jude leadership spent almost two years considering that question. The newly adopted 2022–27 St. Jude Strategic Plan is our answer. We are going to do more. That includes more research, enhanced patient care and more collaboration to change the lives of children with cancer and other catastrophic diseases in the U.S. and throughout the world.
We are investing $11.5 billion over the next six years to accomplish this. It's the largest investment in the nearly 60-year history of St. Jude.
This commitment expands patient care and clinical and laboratory-based research, including work in pediatric cancer, blood disorders, neurological diseases and infectious diseases. The plan calls for an additional 1,400 jobs; an expenditure of $1.9 billion in new construction, renovation and capital needs; and the development of new areas of research.
Our plan concentrates on five areas: fundamental science, childhood cancer, pediatric catastrophic diseases, global impact, and workforce and workplace culture. Across these sections, we have outlined goals that hold the promise of transforming science and medicine, while strengthening collective endeavors to speed cures.
---
Focus on fundamental science
Fundamental, laboratory-based research is the engine that drives most advances in medicine. To help scientists understand why pediatric catastrophic diseases arise, spread and resist treatments, we are strengthening our fundamental laboratory-based research enterprise by investing in talent, tools and the development of new technology. Specifically, we will:
Increase basic science faculty by 33%, adding 22 faculty members and more than 50 support staff across the seven St. Jude basic science departments
Enhance biological explorations from the atomic level to the organ-system level through new projects:

Creation of a CryoEM Tomography Center to determine the native structure of molecules within cells
Establishing a Center of Excellence in Advanced Microscopy to build the next generation of microscopes that explore cells in ways previously unimaginable
Augmenting the institution's robust data science work to become a world leader in the application of data science to biological discovery in normal and disease states

Expand the St. Jude Graduate School by increasing the number of students and adding a new Master of Science in Data Science program
Focus on childhood cancer
During the next six years, we plan to tackle the hardest-to-treat cancers, increase survival rates and reach more children with cancer through the following initiatives:
Concentrate on raising survival rates for high-risk cancers and relapsed disease by:

Expanding the number of laboratory investigators dedicated to advancing insights into cancer with the recruitment of 10 faculty members whose research spans the spectrum of pediatric cancer—leukemia, solid tumors and brain tumors—and cancer subtypes
Creating a new Translational Immunology and Immunotherapy Initiative (TI3), an interdepartmental collaboration to push the boundaries of cell-based immuno-oncology

Accelerate preclinical and clinical testing of new therapeutic agents so the most promising agents can rapidly move from clinical investigation to standard of care
Expand infrastructure required to conduct large-scale, multisite clinical trials needed to establish therapeutic standards
Develop the premier HPV Cancer Prevention Program in the Mid-South and the southeastern U.S. and, ultimately, expand the program globally
Focus on childhood catastrophic diseases
Under the new plan, we are increasing investment in nonmalignant hematological disease research and treatment, developing a new program dedicated to childhood neurological diseases, and reimagining infectious disease research. Our strategies include:
Nonmalignant Hematological Diseases
Increase the number of laboratory-based faculty and staff dedicated to nonmalignant hematological diseases research
Concentrate on curative approaches for hematological diseases through research and infrastructure expansion needed for gene targeting and gene therapy-based clinical studies
Expand sickle cell disease patient support services
Neurological Diseases
Build out the newly created Pediatric Translational Neurosciences Initiative by hiring eight new faculty and further developing its two centers: the Center for Neurotherapeutics and the Center for Pediatric Neurological Disease Research
Infectious Diseases
Develop a Center for Pediatric Infectious Disease Research and hire 10 laboratory-based faculty with programs dedicated to advancing prevention and cures for major infectious diseases that affect children
Focus on global impact
In the U.S., more than 80% of the 16,000 children diagnosed with cancer annually will be cured. Worldwide, 400,000 children are found to have cancer each year. In limited-resource countries, a mere 20% survive. Through St. Jude Global and the St. Jude Global Alliance, we will triple our investment to $100 million annually in programs that seek to address this devastating health disparity. Our strategies include:
Increase investment in training an international workforce to deliver childhood cancer care
Build a global infrastructure to deliver care through collaborations with local health care providers; foundations; and governmental and international agencies, such as World Health Organization (WHO)
Create seven international operational hubs staffed by St. Jude workers to effectively manage the St. Jude Global Alliance, a network of more than 140 institutions across 50-plus countries
Develop a multimillion-dollar Pediatric Cancer Global Drug Access Program—in collaboration with WHO, other U.N. agencies and international organizations—to distribute an uninterrupted supply of anti-cancer drugs for childhood cancer treatment in low- and middle-income countries
Focus on people and place
Our plan outlines several strategies to ensure that St. Jude remains a place where teamwork flourishes; internal and external collaboration thrives; and employees can make a difference in the lives of children. As part of these strategies we will:
Expand the St. Jude Research Collaboratives program from funding five to 11 teams of scientists worldwide through an investment that exceeds $100 million
Enhance employee training programs to make sure faculty and staff excel at their jobs and develop their careers
Enrich future biomedical research pipelines for potential employees by creating experiences for high school and college students in science
Expand the established St. Jude blue-sky process, which solicits mission-related, game-changing ideas outside of the strategic plan, by $180 million
Build and support best-in-class environments that help employees advance our life-saving work and offer patients and their families a home away from home through $1.3 billion in new construction and renovations, which include completion of The Domino's Village, a family housing facility with one-, two- and three-bedroom units; Family Commons, a quality of life space with patient family services from school to tech support; and the Advanced Research Center—and construction of outpatient, clinical office and administrative buildings and parking garages
---
Set to make a global impact

This plan is made possible through increasing donor contributions generated by ALSAC, the fundraising and awareness organization for St. Jude. I'm proud of our 5,000-plus employees, who have stepped up during the past six years to lay the groundwork for this extraordinary plan.
When we look at the progress we've made and the landscape that lies in front of us, there is much work left to do. Once again, we've posed the question: "If not St. Jude, then who?" Our vision is ambitious, but I am confident that working together, we can accomplish great feats. The next six years will be challenging. They will be exciting. They will be transformative. With this incredibly bold strategic plan, we can—we will—accelerate progress globally.