Acute lymphoblastic leukemia: collaborations in China showcase the power of global cancer care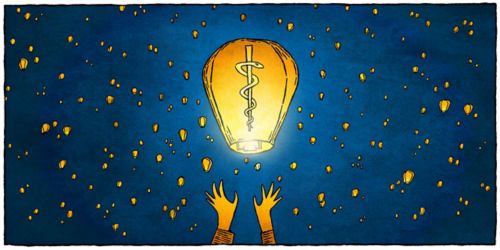 Childhood acute lymphoblastic leukemia (ALL) is a modern cancer success story. In the U.S. today, more than 90% of children with ALL survive. But these numbers do not reflect cancer care in other parts of the world. For more than 25 years, St. Jude Children's Research Hospital has been forging partnerships around the globe to help reduce the burden of cancer care. The experience with our partners in China, which we recently published in the Journal of Global Oncology, helped pave the way for current efforts.
Beginning in 1991, St. Jude, Beijing Children's Hospital and Shanghai Children's Medical Center (SCMC) joined forces. The initial efforts focused on strengthening diagnostic services and providing education and training of physicians and nurses. This early effort expanded to include improved access to treatment after the team learned that most families of children with ALL in China were abandoning treatment for financial reasons. This led to the creation of the Partner in Hope Foundation (Hong Kong) which, working together with investigators at Beijing Children's Hospital and SCMC, developed a standardized, effective and cost-efficient ALL treatment protocol.
This protocol opened in 2005 for underprivileged families of patients with ALL who sought treatment, but could not afford it. Results showed outstanding clinical outcomes, while providing cost effective therapy. In 2009, the success of the program attracted the attention of the Chinese Ministry of Health. The ministry was spearheading major health care reform through the New Rural Cooperative Medical Scheme, in which central and local government provide health insurance to citizens with catastrophic diseases. In 2010, childhood ALL was one of the first three diseases to receive coverage. This project helped eliminate the financial barriers to treatment for approximately 10,000 Chinese children annually.
With improved access to treatment, SCMC undertook an initiative to develop the China National ALL Study Group in 2014, supported by VIVA China Children's Cancer Foundation and St. Jude. This group is composed of 20 major hospitals and medical centers covering 65% of the Chinese population. From this consortium, a national clinical trial protocol for ALL was launched. The Chinese Children's Cancer Group ALL-2015 protocol enrolled almost 6,000 patients in the first four years, with a 3-year survival rate of 93.3%.
These advances triggered national-level activities including the establishment of National Children's Medical Center and the hematology-oncology alliance to promote clinical care and research. Additionally, the Pediatric Leukemia Cancer Registry, the first comprehensive national cancer registry in China has been initiated to collect data on demographics, disease subtypes and treatment outcomes for all children with newly diagnosed leukemia prospectively and retrospectively back to 2015. The effort is coordinated by a major institution in each province, and central government directed control municipality and participation by nearly 600 hospitals across China. To date, this collaboration has already generated a number of scientific publications that may help to improve ALL cure rates worldwide.
This international collaboration demonstrates that academic institutions, governmental and nongovernmental healthcare agencies and advocacy groups have tremendous power for change when working together. While we celebrate these successes, the work is far from finished. Today, St. Jude Global is creating a network of interactive institutions to form a global alliance focused on reducing the gaps in care worldwide. This includes regional programs in the Asia-Pacific, Central and South America, China, the East and Mediterranean, Eurasia, Mexico and Sub-Saharan Africa. Led by the Department of Global Pediatric Medicine, St. Jude Global is dedicated to the sharing of knowledge, technology and organizational skills to change the tide against pediatric cancer—until the day we fulfill the vision of St. Jude founder Danny Thomas, and no child dies in the dawn of life.