A nurse's journey: My past, present and future converge at St. Jude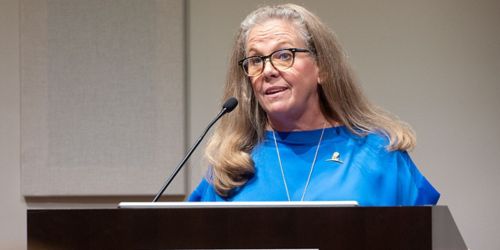 I've always wanted to be a nurse.
If you came to my modest childhood home in East Tennessee in the summertime, you would have found our carport lined up like a patient care ward. I had all the lawn chairs out, and any sheets with holes in them I ripped into pieces to use as bandages.
I persuaded my friends to come play hospital. It was rewarding for them because the pills were brightly colored Life Savers candies. I always served them lunch in bed. It was usually a peanut butter and jelly sandwich with my mom's homemade strawberry jelly and a big glass of grape or strawberry Kool-Aid.
Since I provided lunch, they let me practice my bandaging techniques, so everyone went home with a full belly and a uniquely wrapped bandage. While it was fun to pretend, I learned how it felt to be responsible for the care of another human being.
I joined St. Jude as chief nurse executive in April 2018 after serving as executive nursing director for Children's and Women's Services at Medical University of South Carolina in Charleston. It was a hard decision to leave Charleston, but I felt in my heart that I had done everything I was supposed to do there. When the opportunity came for me to come to St. Jude, I felt I needed to answer that call.
A place of discovery
Although I've only been a St. Jude nurse for about a year, I have discovered something remarkably amazing about what it means to work here. Our nurses always put patients and families at the center of everything they do. As I've walked the halls and rounded with the different teams, I've seen that illustrated in moments of reflection, sorrow and joy.
One day, I was in the cafeteria and saw a nurse sitting with a patient's mother. It was obvious they were both there for the same thing—to grab a quick bite to eat and then return to the room of a sick child. As I walked by their table, they weren't talking about sick children. They were talking about the beginning of the school year. They were talking about new tennis shoes and bookbags. I realized that the nurse had just given that mom a 10-minute vacation to just have lunch and think of something other than cancer.
I was rounding in the Intensive Care Unit (ICU) and was surrounded by a group of nurses who painfully shared with me that they had recently lost a patient who wasn't supposed to die. They recounted the last 24 hours of that child's life and how they felt so helpless standing at the bedside. All they could do was hold the family's hands and comfort them at a time when there was no cure to be found.
One of the most exciting things happened when I had only been at St. Jude a few weeks. I was introduced to a group of Jamaican nurses who come to St. Jude every year to learn from us and take that knowledge back to Jamaica. To show their appreciation, the nurses sang and danced for me. I have to say that was the first time I've ever had nurses sing and dance for me—it was quite uplifting.
Toward the future
I'm honored to be a St. Jude nurse, and I'm reminded every day when I enter the campus that it is our job to help these children get better. We are fortunate to be on the cusp of many new therapies that will provide life and hope to children who have historically faced catastrophic odds.
I am dedicated to creating a collaborative relationship for physicians, administrators and nurses for the benefit of patient outcomes and the promotion of research and cures. We want to develop a nursing structure that supports the future growth of St. Jude and promotes a nurturing environment in which nurses excel.
We are going to increase certification rates for our nurses, since evidence shows that patients have better outcomes when nurses are certified.
By promoting education and advanced licensures, we will ensure nurses work to give our patients the best care possible. We are creating an infrastructure to set up a successful magnet re-designation in early 2020. And we are forming community, state and global relationships to showcase nursing's contribution to optimal patient outcomes through evidence-based practice.
I'm responsible for nursing care at St. Jude. But most of all, it is my job to take care of our nurses, so they can take care of our patients. These nurses are my heroes every single day.
We bring our hearts and minds to the bedside of every child we care for, and we remember that they are just children dealing with terrifying illnesses. We wipe their tears. We hold their hands. We work relentlessly to remind this terrible disease that it will never win.