A lifetime dedicated to nursing care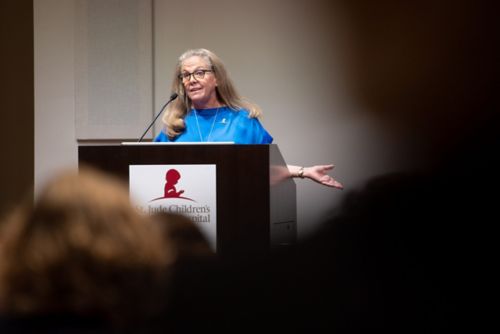 Robin Mutz, senior vice president and chief nurse executive at St. Jude, learned over time that nursing provides myriad avenues of clinical study. This is part of an ongoing series.
When did you know you wanted to be a nurse?
I have wanted to be a nurse from my earliest memories. As a little girl, I provided first aid for the entire neighborhood, including treating bike accidents, scrapes and bruises. I had a hospital in my carport. I used all the lawn chairs and my friends were the patients. In return, I provided lunch in bed, consisting of bologna or peanut butter and homemade jelly sandwiches with a large glass of red Kool-Aid. I was a candy striper in high school and volunteered at a tiny community hospital in East Tennessee. One day, a nurse let me peer into the delivery room, and I saw a baby born for the first time. It was life-changing, and sealed the deal for me to become a nurse.
How did leadership shape your early career?
When I began nursing, there were no residency programs to mentor new nurses. I was thrown into the "deep end of the pool" and left to sink or swim. My head nurse knew I was struggling to keep up. One day I tearfully told her I thought I was going to quit because I didn't think I was cut out to be a nurse. She looked at me and said, "You are an amazing nurse, and I'm going to make sure you are the best nurse ever." She taught me to become a confident nurse with good skills. I never forgot her compassionate leadership and have tried to role model that behavior throughout my career.
What would you tell your younger self?
I wish I had known that a career in nursing has limitless possibilities.  You can begin in one direction, change several times throughout and build a knowledge base and career variety that will sustain you for a lifetime.